Taking the classroom into the field!
What is Field Study / Field Research Project?
Field Study and Field Research Project is a program where under the instruction of faculty, students perform study and research activities in the field related to the specialized area of their respective Colleges. This way, they can deepen their own interests, and this program becomes a bridge between theory and practice. For the College of Asia Pacific Studies, a program encompassing all 4 Areas of Study (Environment and Development; Hospitality and Tourism; International Relations and Peace Studies; Culture, Society and Media) is available for first year students, while higher year students can take part in a program that focusses on one of the above Areas of Study. For the College of International Management, students can take part in a program that, through industry visits, gives a view on the background through which international companies were established. Another program focuses on the social change as brought about by social entrepreneurs. Not only will students get the experience itself of going into the field, through pre- and post-program lectures, they will also deepen their knowledge of the subject, and gain knowledge and skills that will aid them with their study at APU.
Past Program (Reference)
"Poverty and Environment Issues in Asian Developing Countries" (Activity Site: India, Thailand)
"Heritage Tourism in Urban and Rural Landscapes" (Activity Site: Italy, Spain)
"Past and Present of Kitakyushu; The First Asian Green Growth City" (Activity Site: Fukuoka, Japan)
"Building Sustainable Local Development"(Activity Site: Nagano, Japan)
"NGO Research (Field Research Project)" (Activity Site: Niigata, Japan)
"Social Entrepreneurs in Indonesia" (Activity Site: Indonesia)
"Social Innovation and Entrepreneurship (SOLVE)" (Activity Site: Philippines)
"Experiencing Media, Culture and Creative: Television, Film, Photography and Theatre of Slovakia" (Activity Site: Slovakia)
"Doing Business in Russia" (Activity Site: Russia)
"Roles and Activities of International Organizations" (Activity Site: Tokyo, Japan, Switzerland and France)
"Considering War and Peace through Okinawa's Experience" (Activity Site: Okinawa, Japan) etc.
※ Above shows a part of the programs offered in the past until 2019AY.
※ Programs offered will vary from year to year.
Point 1 From the classroom to the world! Fully utilizing places of learning around the globe!
By going into the field, whether domestic or abroad, and experiencing the local problems and activities on the ground, students can deepen their understanding of both the basic and specialized knowledge they learn at APU. By visiting local governments, international organizations, businesses, entrepreneurs, NGOs etc. students can deepen their understanding on themes such as the environment, impoverished nations, tourism, and so on.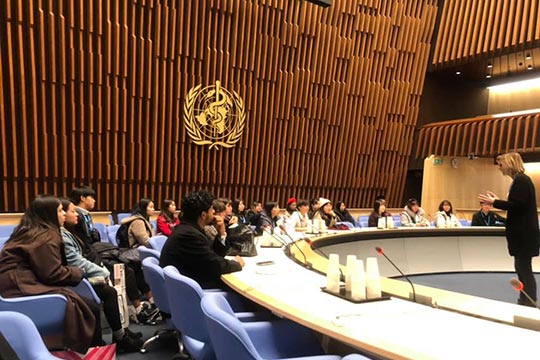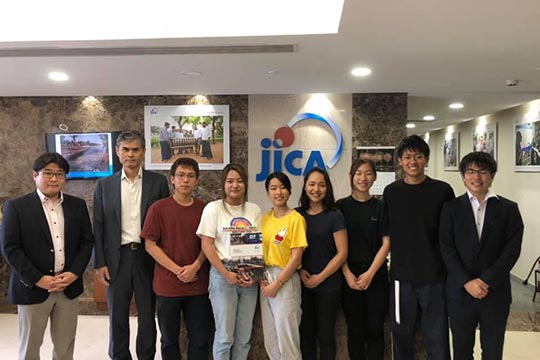 Point 2 Instruction by both APU faculty, and local specialists!
The programs are conducted in small groups. While in the field, students can receive more detailed and further reaching instruction on their specialized area by APU professors. Furthermore, students are granted access to places they normally wouldn't be able to enter, such as international institutions, government buildings, universities, NGOs etc. There they can, thanks to the connections of faculty, receive instruction directly from local specialists, and further deepen the specialized knowledge they acquired in class. This is also a great opportunity for students to think about their own future and career.
Point 3 A rare opportunity to experience the forefront in the field, and consider your future!
Both the connections made with people during fieldwork, and the lessons learned in the field provide students with an excellent opportunity to think about their future study and career. By deepening their specialized studies, they will get a clearer picture of their future career vision. They can then use this as a guideline for their study plan at APU.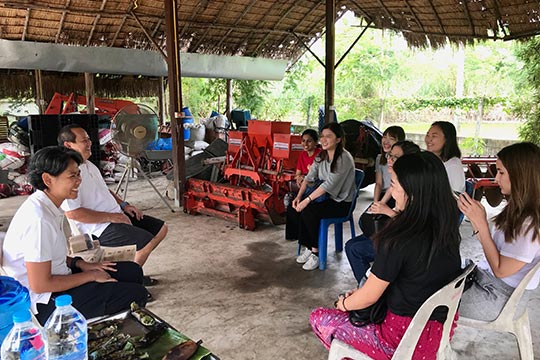 KATO Yu (APS) 3rd year student participated in September, 2019
Field Study "Heritage Tourism in Urban and Rural Landscapes"
(Activity Site: Spain, Italy)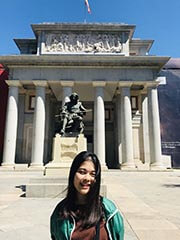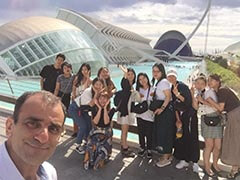 Through my participation in this program, I was able to expand my perspective on tourism beyond what I had learned in the classroom. First, in the pre-program lectures, I picked the topic I was most interested in: "experiences that people really find appealing" and prepared ways to link that to the fieldwork. After this, I took part in the training in the field. Spain and Italy in particular, have, within their long history, a plethora of man-made heritage, and with that just as many kinds of appeal. On the other hand, I learned about provincial cities, that are not as well-known as the big cities. The bigger cities have the appeal of a long history, while the provincial cities have the appeal of the shape of a nation built by its people over a long time. Even though the fieldwork was a short 2 weeks, I was able to learn about tourism from multiple angles, and discover numerous kinds of appeal that I would not be able to have known through books or the internet. I want to make the most of the appeal-filled experiences that I gained through this fieldwork, and connect them to my future studies!