Study abroad at a prestigious American University through a program that incorporates 'English learning', 'internships' and 'lectures as an auditor'.
What is the Service Learning Program?
The Service Learning program is a program which combines pre-departure and post-program courses at APU, English learning at the host location, as well as service training (such as internships and volunteer work etc.) in the host country. The program functions as a bridge towards career development and is taken with APU's regular curricular subjects. Participants undertake intensive English learning at the host university while doing internships at businesses, NGOs as well as other activities which contribute to society in the host country. Participants foster various perspectives on career choices while thinking about their own paths and careers, giving them a clear vision of their own learning and goals they wish to achieve as students. Furthermore, as the program is undertaken in practical English, participants will be able to build upon their language abilities and deepen their understanding about different cultures by living among the locals.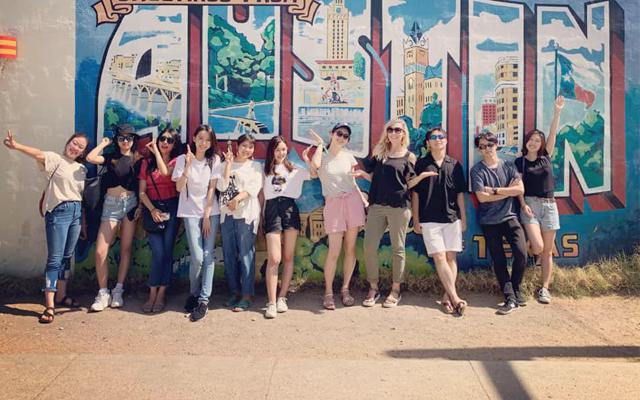 Why Service Learning? No.1
Internship in America!
For people who wish to enter the international workforce, the opportunity to absorb themselves in an American workplace is invaluable. Questions like 'Does working abroad differ to working in Japan?', 'How far can I take my English skills?' and 'How should I apply myself in University now to make my dreams come true?' contain answers nobody can answer for you. Take action and find out the answers for yourself! Some fields which APU students have interned at in the past include local businesses in Austin, NGOs, university offices, sales & general affairs, and event management.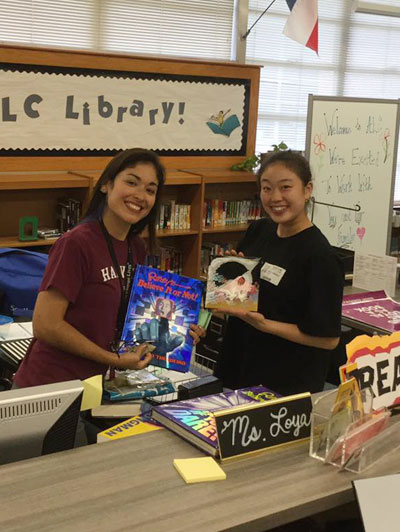 Why Service Learning? No.2
Put the English you have learnt into practice!
The program contains tightly packed content for participants to apply their English in a practical environment in America itself. Through internships, participants will interact with supervisors and clients. They will engage in discussions and workshops during regular curricular lectures. Furthermore, through UT Austin's English language center, participants will learn alongside other students from around the world; and, they will enjoy life with their flat mates after hours. All of this is experienced in English. For three months, participants interact with people of different ages and from various backgrounds; their English ability will inevitably improve.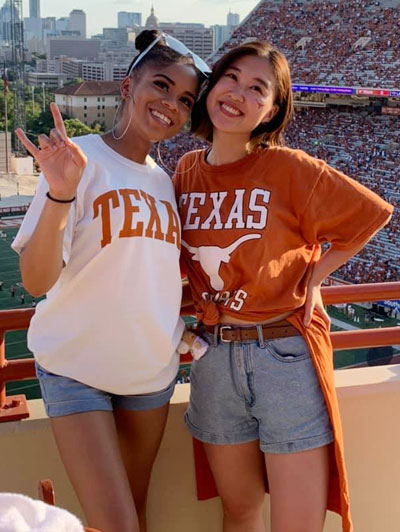 Why Service Learning? No.3
'A comfortable city to live in', study at the No.1 city in the U.S. – Austin!
U.S. News & World Report's 'Best Places to Live in the USA' has ranked Austin as number one for three consecutive years. The city is known for its cluster of high-tech companies, and its strong liberalism even for American standards. The host university – The University of Texas at Austin ("UT Austin") – is famous for producing multiple winners of the Nobel Prize and Pulitzer Prize amongst many other awards. In this program, participants will be able to attend lectures for regular subjects (one subject / no credits) and partake in America's first-rate classes alongside UT Austin students.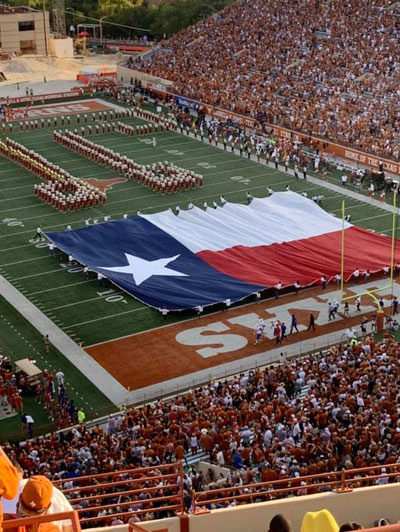 Why Service Learning? No.4
'What type of work am I suited to?' A chance to think about 'work' from a new point of view!
Perhaps you may think 'I like it', 'I'm interested' or 'I want to give it a try'. But is it actually suited for you? Is there any value in it for you? What standards can we set to decide if something is worth pursuing? Is the career you think you want to pursue actually the right one for you? Participants will work closely with teaching staff and engage in discussions, and they will conduct interviews with families and acquaintances to deepen their views on career selection.
Why Service Learning? No.5
Acquire English skills for the real world!
'Will I become able to speak English in just three months of studying in America?' The answer is 'no'. Participants who apply themselves diligently until the time of their departure may experience a surge in their abilities. But those who take it lightly and believe their abilities will naturally increase simply as a result of being in an English speaking environment will not see the same results. In this program, participants will undertake studies with an English instructor covering various ways of self-appeal and business English amongst other English related studies. By reflecting on their past tests and examinations, they will be continuously working to improve their English. Above all, studying steadily alongside other eager-minded students will prove to be a great source of motivation for them.
Hitomi Kimura (APM) Graduated in AY2018 
Participated in the Service Learning Program in 2017
Engaged in the internship at NGO; Boys & Girls Club of Austin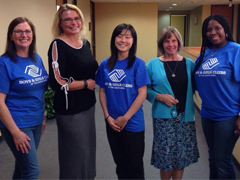 By participating in the Service Learning Program, I was able to improve my language abilities through English studies, university lectures, internships and many more activities. Furthermore, I believe I became a better communicator and a more independent person. In particular, the hardships I encountered during the internship – such as differences in culture and understanding – encouraged me to become more pro-active in communicating. For example, I personally sought out my supervisors to have a clear understanding of the work setting and goals. I feel that as a new member of working society, the communication skills I acquired during my time abroad will be invaluable for me to collaborate effectively with my co-workers and clients. For example, the ability to consider matters from another person's perspective when exchanging opinions. With this, I believe I will be able to build strong interpersonal relationships. Moreover, the company which I interned at constantly required independence. By having a sense of purpose and being proactive, I feel I could broaden my knowledge as well as the range of work to be involved in. The experiences I gained and people I met during my time abroad are irreplaceable and will serve as resources I can rely on as I look at career prospects. From now on, I intend to do everything I can so that I can reach an environment where I can make use of my language abilities.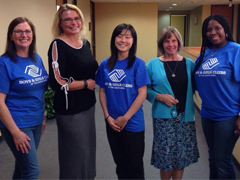 Ayako Yajima (APS) 4th grade
Participated in the Service Learning Program in 2019
Engaged in the internship at NGO; Austin Humane Society
"I cannot speak English well even though I've already spent three years at APU."
"I don't know what I want to do in the future."
"How can I make the best use of these skills I've learned going forward?"
This was me before I participated in the program.

However, since the program I no longer struggle with English and I have a much clearer vision of my future. Especially, since I was able to see many different peoples' career paths and ways of life, I learned that the best thing to do is to move forward in my own way without worrying about the people around me. This program made me reexamine my values in a major way.