| | |
| --- | --- |
| O n l i n e | : ISSN 2432‐1389 |
| P r i n t | : ISSN 2432‐1370 |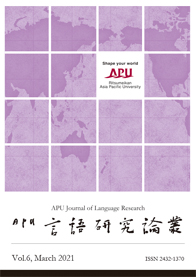 The APU Journal of Language Research, a new journal of the Center for Language Education, has finally been published after some twists and turns. We hope this journal will contribute to the expansion and development of language education at Ritsumeikan Asia Pacific University. We received kind support and cooperation from many people. We would like to extend our heartfelt appreciation and ask for your assistance.
APU Journal of Language Research Editorial Board
Please submit inquiries to APU Journal of Language Research at aplj*apu.ac.jp
Note: we have substituted * for @ to protect against spam mail
New Publications Vol.6
No.
Author
Title
Date
1
Hua Luo
A study of Chinese Language Teaching Methods for "néng", "huì", and "kěyǐ
March 22, 2021
2
Wenqing Zhang
A Survey of Phonological Similarity of Chinese Characters to Japanese Kanji-word
March 22, 2021
3
Jonghee Jung
ICT in Korean as a Foreign Language Teaching and Learning: A Narrative Literature Review of Studies on CALL and MALL
March 22, 2021
4
Hiromichi Terajima
Yoshie Itai
Reflections on the Pilot Implementation of Corpus Tool Workshops for Writing Skill Improvement
March 22, 2021
5
Eiichi Inada
Changing Career Path: Views on Choosing an Alternative to Japanese Language Teaching of a Chinese Graduate of Japanese Language Education
March 22, 2021
6
Erina Kirisawa
Effects and Issues in the Application of Visual Thinking Strategies in Japanese Advanced Classes
March 22, 2021
7
Hanae Yatsuda
The Potential of Ttransformative Learning in Tertiary Level JSL Education
March 22, 2021
8
Andrew McMahon
Creating and Teaching a Global Englishes-themed EFL Course
March 22, 2021
9
Paul Sevigny
Lance Stilp
Kent Jones
Abidemi Bankole
Improving the Impact of Undergraduate English Language Tas at a Top Global University
March 22, 2021

RCAPS Publications:
RCAPS publishes two journals: the Ritsumeikan Journal of Asia Pacific Studies (known as "the RCAPS Journal") and APU Journal of Language Research(APLJ). The two journals have independent editorial policies and teams but the submissions are commonly assessed by the general "Editors" of each journal, and they are not formally peer reviewed. Since 2012, the RCAPS Journal has started an "in-house" peer review with the help of APU faculty members as well as a few other affiliated researchers and reviewers.