| | |
| --- | --- |
| O n l i n e | : ISSN 2432‐1389 |
| P r i n t | : ISSN 2432‐1370 |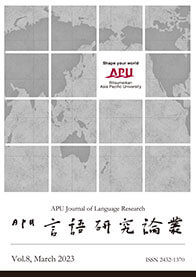 The APU Journal of Language Research, a new journal of the Center for Language Education, has finally been published after some twists and turns. We hope this journal will contribute to the expansion and development of language education at Ritsumeikan Asia Pacific University. We received kind support and cooperation from many people. We would like to extend our heartfelt appreciation and ask for your assistance.
APU Journal of Language Research Editorial Board
Please submit inquiries to APU Journal of Language Research at aplj*apu.ac.jp
Note: we have substituted * for @ to protect against spam mail
New Publications Vol. 8

RCAPS Publications:
RCAPS publishes two journals: the Ritsumeikan Journal of Asia Pacific Studies (known as "the RCAPS Journal") and APU Journal of Language Research(APLJ). The two journals have independent editorial policies and teams but the submissions are commonly assessed by the general "Editors" of each journal, and they are not formally peer reviewed. Since 2012, the RCAPS Journal has started an "in-house" peer review with the help of APU faculty members as well as a few other affiliated researchers and reviewers.