Freshman Intercultural Relations Study Trip
Teamwork
Challenge Spirits
Communication
Use of Foreigen Language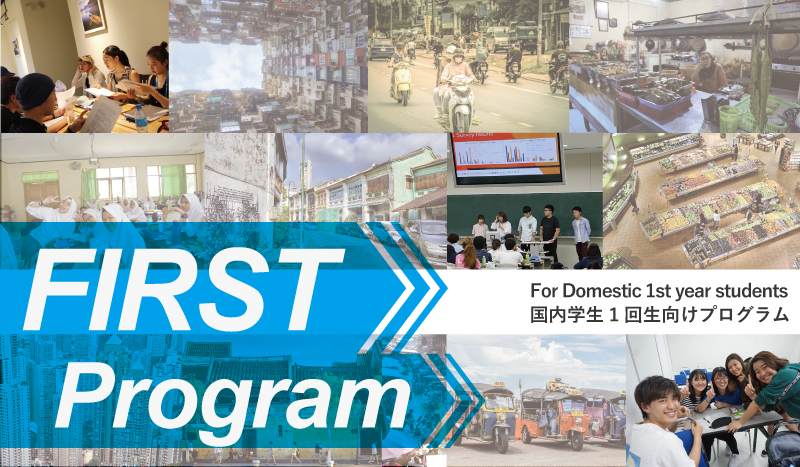 →University support for APU students interested in student Exchange
What is the FIRST Program?

FIRST is a short-term, intensive program that offers first-year students the opportunity to spend the break between quarters*1 to travel to other parts of Japan or overseas and directly experience Asian culture and society by interacting with local people and conducting field research. The FIRST Program is held twice a year: once in another country for domestic students in the spring and once in another part of Japan for international students in the fall. Since it began in AY2007, the popular FIRST Program has attracted a large number of participants, and in AY2019, nearly one in every two Japanese students joined the program.

FIRST will be implemented in AY Spring 2021 Semester as a program that does not involve overseas travel.
Participants will engage in field work that involves research activities through conducting questionnaires surveys on campus or online regarding the designated country/region. In addition to cultivating fundamental research abilities and sensitivity to different cultures, participants will also develop various skills and traits required at APU such as communication, group collaboration, presentation, and willingness to take on a challenge. This program is ideal for students who are interested in interacting with languages and cultures around the world, and the local people of those languages and cultures. It is ideal for students who wish to make the most out of APU's international learning environment and campus life.

FIRST is a program created to help 1st year APU students to further expand and deepen their learning on APU's multicultural campus. Participants not only learn from cross-cultural experiences, but also learn about necessary learning methods as 1st year students. This time, participants will not be able to experience the program at the local site, but they will learn how to work as a team from activities involving cross-cultural communication, basic cross-cultural research and group work through cross-cultural contact online. Participants of the program will be accompanied by senior student TAs who will assist them in their learning. There have been many students who, after completing the FIRST Program, become interested learning outside of the university campus, such as through language study trips, overseas study trips led by teachers, and overseas programs. FIRST is the first "gateway to the world" at APU.

Professor KONDO Yuichi
College of Asia Pacific Studies
Director, FIRST Program

Seeking applicants for FIRST AY2021 Spring Semester!!
FIRST will be implemented in AY Spring 2021 Semester as a program that does not involve overseas travel. Please refer to application information for the details.
Application Period: Thu. April 1 - Wed. April 21, 2021 (16:30)

<Guidance Session Schedule>
16:10-17:00 (Period 5), Wed. April 14, 2021

Application information and the way to attend the guidance session are available on Academic Office website .

FIRST for Domestic Students

As of AY2019
AY2021 Spring
Objectives/
Characteristics
・Learn how to study in a group
・Acquire cross-cultural understanding and the ability to adapt
・Consider about the 4 years of study at APU and overseas study programs
Location
Overseas (Past example: Korea, Taiwan)
Mainly in APU Campus
Timing and length
Spring semester (5 days)
During quarter break (late May – early June)
*You have Pre- and Post-program sessions as well.
Spring semester (3 days)
During quarter break (late May – early June)
*You have Pre- and Post-program sessions as well.
Credits
2credits
Program Eligibility
1st year Domestic students*2
Program Fee
Approx. 70,000 JPY
Free

The FIRST Journey ※The AY 2021 Spring program will be conducted mainly on campus

The program is composed of on-site field research sandwiched between on-campus pre- and post-program lectures and features students working in small groups.

1. Pre-program sessions (one month prior to departure)

Under the guidance of faculty members, students decide their research topics, receive crisis management guidance, and prepare themselves for departure. They also learn the language and culture of the host country while receiving support from upperclassmen including students from the host country.

2.Field research (4-5 days)

As soon as students arrive in the country, their destinations are decided by drawing straws. Armed with a map, a few words of local language, and teamwork, the groups set off for their respective destinations. During the program, students cannot use their mobile phones, and some of the destinations are small towns that do not normally attract tourists. By overcoming situations in which they cannot rely on what is considered common sense in Japan, the students learn to be resourceful without fearing failure.

3.Arriving at the target destination!

Upon arrival, students begin their research based on the topics decided prior to departure. They will need to approach approximately 600 people to complete their 300-page-plus questionnaires. Often, the students are treated kindly by the locals, but they also experience some tough situations. The people they approach may not be able to speak English, or they may face repeated refusals for assistance. The objective of putting students in these situations is to provide them with non-linguistic communication skills—that is, the ability to make themselves understood without relying on language.

4.At the end of the day

At the end of each day, students hold reflection sessions. They discuss the results they have collected and methods for conducting surveys, share the insights they have gained by undertaking activities in a foreign culture, and consider ways to improve group work. They may not always see eye to eye with each other, but this is also an important learning opportunity.

5.Post-program session

After they return to Japan, the students give presentations on the results of their surveys. Seeing and hearing about what the other groups have discovered helps the students reflect on their own experiences. They provide each other with feedback, and the entire process which serves to bolster a range of skills they can put to use in their future studies at APU.
FIRST Program Student Testimonial
AY2019 FIRST Program Participant
HOSOKAWA Kotomi (College of Asia Pacific Studies (APS))
By participating in FIRST, I was able to learn communication skills, proactivity, and cross-cultural understanding. Communicating with local people who speak a different language was not easy. However, by eating local food and reaching out to the people ourselves, they would talk to us freely and I felt our feelings connect. I was simultaneously also able to feel a different culture. This was my first step in my university life and it has increased my confidence.
FIRST Program Student Testimonial
AY2019 FIRST Program Participant
NOSAKA Sota (College of International Management (APM))
What is important is "heart" and "passion". Even in an environment where communication is not possible through words, make use of gestures and through trial and error and the ability to act, communicate with the people on-site to conduct over 300 surveys and accomplish the mission. Through FIRST, I learnt not to fear failure and the importance of conveying your feeling to another person. I improved my English and I wish to continue speaking to others without hesitation in cross-cultural environments, whether it be in APU or the wider world.
→List of Off-campus Study Programs
→University support for APU students interested in student Exchange
*1 The quarter system
The APU academic calendar is divided into two semesters, and each semester consists of two quarters (each lasting approximately eight weeks) and an intensive two-month session. Classes held during the quarters are offered twice a week and are completed in two months. This intensive calendar structure ensures positive learning outcomes and encourages students to apply themselves to their studies. Breaks are held between quarters during which time classes are not held. APU offers several intensive study abroad opportunities that students can take advantage of during these quarter breaks.
【 The APU Academic Calendar 】
Apr
May
Jun
Jul
Aug
Sep
Oct
Nov
Dec
Jan
Feb
Mar
Spring Semester
Fall Semester
1st Quarter
2nd Quarter
Summer Session
1st Quarter
2nd Quarter
Winter Session
*2 International & Domestic students
The term international student denotes those students who possess a College Student visa, while the term domestic student refers to Japanese students and also includes non-Japanese students who reside in Japan with a residency status other than College Student.