APU has put in place a comprehensive support system to help students get the very best out of their study experience. Through encouraging tailored advice for students from our faculty members and mutual learning between students, the support system continues to enjoy positive results.
SALC (Self-Access Learning Center)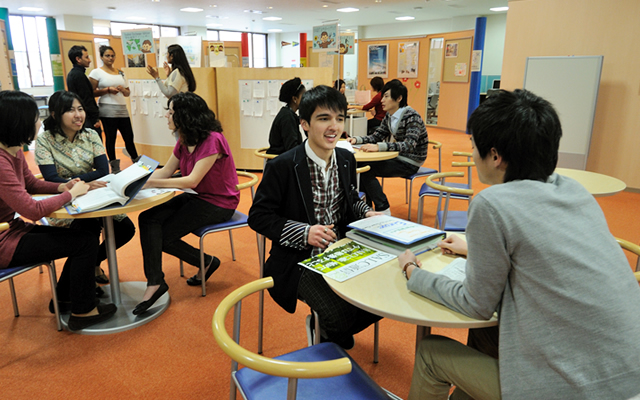 Located on the ground floor of Building F, the Self Access Learning Center (SALC) was established to help students to continue developing their language skills outside the classroom.
SALC offers a range of language support options for students studying English or Japanese. English-basis "Pair Advisors" (PA) are available to provide language learning support to students looking to raise their English speaking and writing skills. Japanese speaking PA are also available for language learning support and Japanese conversation practice.
A wide range of reading materials including books and proficiency exam handbooks are available in English and Japanese to meet the needs of learners, from beginner to advanced levels. In addition to English and Japanese, a range of books and learning materials are also available in any of the six Asia-Pacific (AP) languages currently available at APU: Chinese, Korean, Malay/Indonesian, Spanish, Thai and Vietnamese.
A range of language learning activities are arranged to help international and domestic students interact and improve each other's language skills.
Student Exchange Advisors (SEA)
SEA is an organization made up of students with overseas exchange experience. Working in cooperation with the Academic Office, SEA offer advice and support to students considering taking part in an overseas exchange program.
Students are required to have advanced English proficiency in order to acquire specialized knowledge imparted in English on an exchange program. Applications close about one year before the departure date and students are required to put together a detailed study plan. Based on their overseas exchange experiences, SEA members are available to provide a range of support including how to develop a study abroad plan, getting used to your study abroad environment, and linking your exchange experience to your future studies and career.
The SEA philosophy is to "help junior students through sharing our experiences"
A booth is available in the Academic Office for prospective exchange students to come along, meet with an SEA, and discuss any questions or doubts they may have about studying abroad. Regular support events and seminars are also held to help introduce students to the benefits of studying abroad.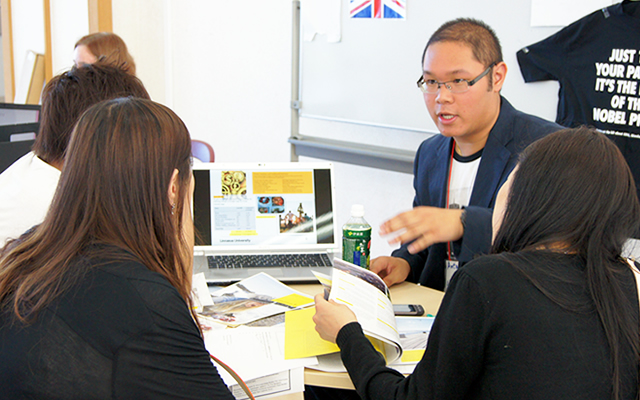 BASE (Basic Academic program for overseas Education)
Base is an extracurricular preparatory course for students who want to improve their English communication and cross-cultural skills in order to take part in a one-year exchange program during their 2nd or 3rd year. There are 20 places available, and participants are selected from the pool of applicants.
In addition to their regular curriculum, students selected for this program take additional classes and training sessions including extra English classes and workshops every week, training in Japan and overseas, and much more. Through this course, students work on developing the high level of English proficiency and communication skills they will need to succeed as an overseas exchange student.
Through individual instruction and counseling, and receiving advice from senior students who have competed the Super Ryugaku Course and experienced studying abroad, participants on this course can expect to make steady progress and towards their goal of studying abroad with the help of our comprehensive support structure.
Message from a program participant
2015AY BASE Program
Moeka Sato
Accepted for AY2016 student Exchange
at Thammasat University, Thailand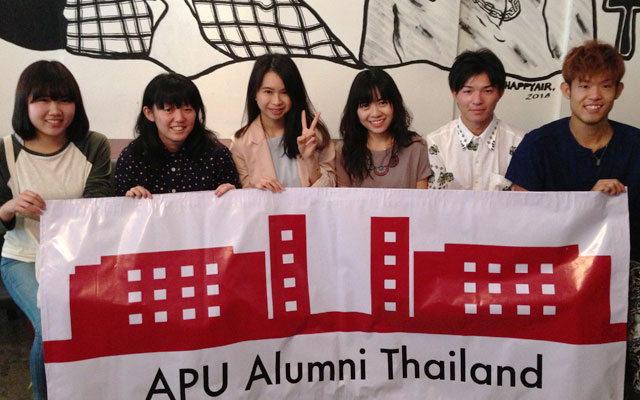 I had an invaluable experience as a BASE student for one year. What was especially significant was the experience of facing myself. Through repeated self-analysis in classes and workshops, I was able to face my strengths and weaknesses which allowed me to create a study abroad plan aligned with my goals so I could prepare accordingly. Experience leads to increased confidence and this confidence leads to new challenges. I am confident that my experience through BASE will pave the way for further challenges overseas.
Find out more about:
Language education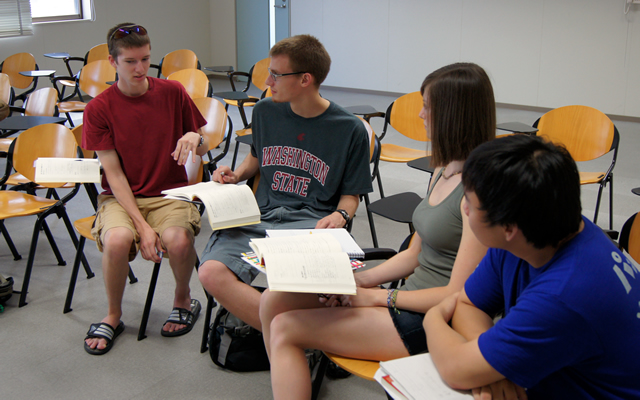 APU offers the best learning environment to improve your language skills. Japanese and English are the de-facto official campus languages, but thanks to our diverse international student body from around the Asia Pacific region, students also have the opportunity to hear Chinese, Korean, Indonesian, Spanish, Thai, Vietnamese, and many other languages.
With classes taught under the instruction of our highly experienced teaching staff employing the latest teaching methods, the APU Center for Language Education (CLE) offers classes in English, Japanese, and also six of the major languages spoken in the Asia Pacific region. The CLE also offers overseas study programs integrated with curriculum subjects and a range of comprehensive language study options.
Students who enter APU on a Japanese language basis sit a placement test and are assigned a class that best fits their current level of proficiency. Students then begin the process of acquiring the reading, writing, speaking and listening skills needed to successfully take regular curriculum subjects on an English language basis. The TOEFL (ibt) and TOEIC (ip) tests are regularly held on campus offering students the opportunity to get an objective evaluation of how their English proficiency is improving.
The CLE also offers comprehensive Japanese language training for international students who, when they first arrive here, often can not speak a word of Japanese. Starting with the basics of the Japanese hiragana alphabet and working up to complex grammar and writing systems, the Japanese language program allows students to study at an appropriate starting level and brings them up to the level of proficiency they will need to take curriculum subjects in Japanese, secure a job in Japan, or carry on study at the graduate level in Japan.
Find out more about: