Reading Library Collection
| | |
| --- | --- |
| Books | Books are arranged according to the Nippon Decimal Classification (NDC) , first according to subject and then by call number order. |
| Periodicals | Periodicals are arranged in alphabetical order by title, from left to right. (Japanese periodicals are in order of Hepburn method Romaji. English periodicals are arranged in order of their names excluding the article. If the periodical begins with an article, such as 'the', the next word will have been used.). |
Once finished reading the item in the library, please return to a return cart rather than back onto the shelves.
Reading valuable materials
| | |
| --- | --- |
| Valuable materials | Please fill out and submit an "Application to Valuable Books(on-site)" at the Reference Counter to access these materials. |
Valuable materials are only available during Reference Counter open hours.
Valuable materials from other campuses cannot be ordered.
Please read them at the library where they are located.
Reading Graduate School theses
Use of Audiovisual material
Audiovisual materials (including attachments) may only be used in library where they belong.
However, please understand that depending on the item, the adequate device for playing them may not be available.
Advisory Committee Library (AC Library)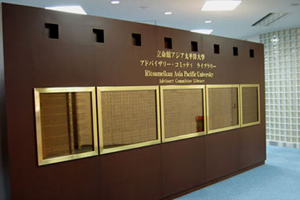 The Advisory Committee was established in May 1996 to support APU. Its members include the heads and ambassadors of various countries and leaders of the Japanese business world, who have been supporting APU in various ways. The Committee is composed of about 300 members with honorary committee members, international committee members, ambassadors, directors, executive directors, and committee members.
The Advisory Committee Library, is a part of the APU library where books and materials donated by Advisory Committee members are kept. This library was established with the hope that students would utilize the materials here to broaden their academic horizons and emerge into the world as bright and talented individuals.
APU Collection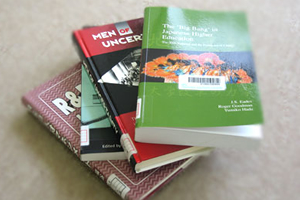 (1) Overview
The APU Collection to the right of the library entrance, showcases works by APU faculty. This collection cannot be borrowed or removed, but copies for use are available in the general reading rooms.

(2) Inquries
Please inquire at the Reference Counter if you cannot find a book you are looking for.