Communication
Sense of Diversity
Use of Foreign Language
Language Acquisition + Cross-culture Experience!
What is AP Language Immersion Program?
Language Immersion Programs are intensive language learning programs held during Summer or Spring breaks at overseas universities or their affiliated language schools in order to boost students' language ability. By immersing in a foreign environment for 24 hours a day, students will not only gain practical language skills but also develop intercultural adaptability while learning about their host country's culture and customs by interacting with local people and participating in activities. Moreover, in order to take full advantage of the educational opportunities in the host country, pre-program lectures will be held before departure, and post-program lectures after return, for students to reflect on what they learned in their host country and link it to their future studies at APU.
*APU offers 6 "AP Languages" used in the Asia Pacific Region
Chinese

Korean

Malay/
Indonesian

Spanish

Thai

Vietnamese
Attraction Point 1
You can challenge a new language!
APU provides students with the opportunity to learn six languages used in the Asia Pacific region. These "Asia Pacific Languages (AP Languages)" are offered in courses ranging from introductory to advanced levels. Students can of course participate in the Language Immersion Program after studying at APU for some time, but since most of the programs accept students who have never studied the respective language, this program is also recommended for students who want to try learning a new language. Students can apply to this program from their 1st semester, giving them the opportunity to acquire a 3rd or 4th language from as early as their 1st year at APU.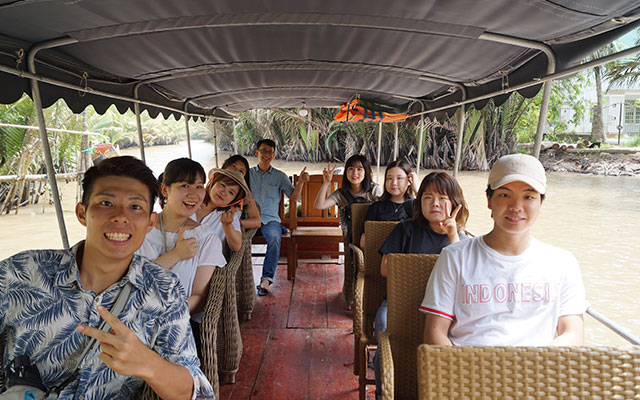 Attraction Point 2
Immerse yourself!
The name "Immersion Program" comes from the English word "Immerse". Students will be studying the language in a country where that language is the mother tongue. In doing so, they will be able to immerse in that language and study it intensively. By immersing themselves in the language every day, their language acquisition speed will be faster.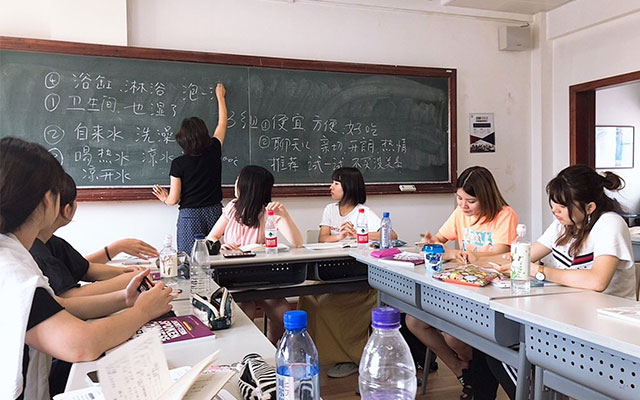 Attraction Point 3
It's not only about studying the language!
In addition to language classes, Language Immersion programs incorporate many activities representing the respective country. Trying on traditional costumes, cooking classes, experiencing local life through homestay, students can experience things which cannot be experienced from a regular trip. Unlike a short-term trip, this program lasts for one month, so communication with local people is naturally born. Through interacting with local people, students can deepen their cross-culture understanding.
Moreover, most language immersion programs include student TAs from the host university. The local TAs will not only become your language partner, but they may also take you to hang out on weekends, or introduce you to nice local places to try delicious food or nice areas for shopping.
Attraction Point 4
Making friends!
Since the program lasts for over a month, there may be times when you feel anxious. But do not worry. Other APU students and people from the host university will always be by your side to support you. Bonds become stronger when overcoming tough times together. You may meet lifelong friends during this program. APU professors and teachers from the host university will also help you so you can concentrate on your learning.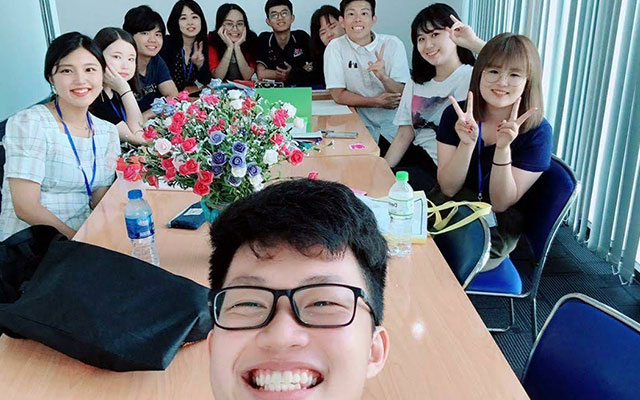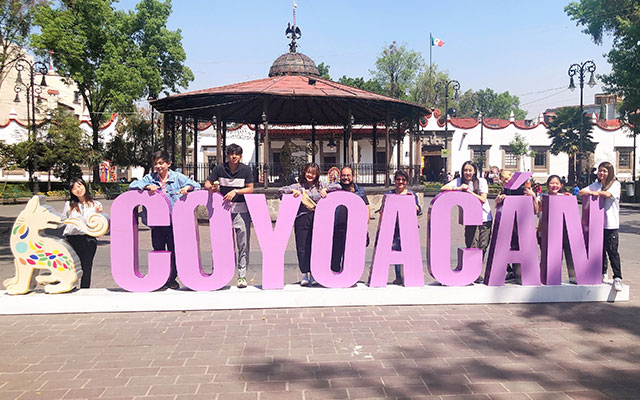 Attraction Point 5
Links to future studies at APU! Links to future career!
Program participants are privileged to take the language exemption exam during the on-site program. Normally, when registering for language education subjects, students must pass the previous language level in order to register for the next level. However, program participants who pass the on-site exemption exam can register a higher course level from the next semester. This enable students to continue studying the language and brush it up even more.
In the current Japanese society, people who speak another foreign language in addition to Japanese and English are highly sought after. This program is a chance to acquire a skill that you can use to appeal to others when pursuing your job hunt.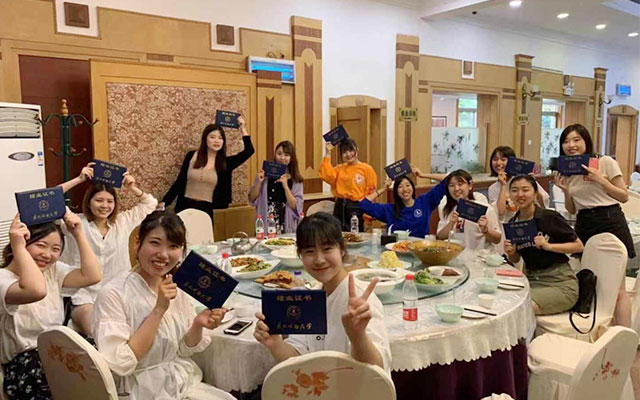 Students Voice
Messages
SUGITA Kinji Professor
Head of Asia Pacific Languages
Assistant Director, Center for Language Education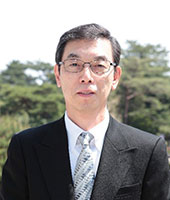 In addition to the heart, language is an essential tool for communication between people. There is nothing more valuable than mastering a third language if you wish to communicate with as many people as possible. When asked to evaluate one's own foreign language ability, people often answer 'everyday conversation level'. In most cases, people take this as a synonym for being able to perform 'basic greetings'. However, I believe that being able to have a conversation fundamentally means that one has achieved a considerably high level in the language. I wish for everyone who has been given the opportunity to study in APU's unique learning environment to master the Asia Pacific Languages in the fundamental meaning of 'everyday conversational level'. In doing so I believe this will help you develop essential skills for the future.
Application Information
Recruitment for the 2020 Spring and Fall semester programs have been cancelled due to the COVID-19 pandemic.
Period:
August - September (3~5 weeks)
February - March(5 weeks)
Accommodation:
University dormitory or other accommodations such as hotels
Country/Area:
China, Korea, Thailand, Vietnam, Indonesia, Mexico
Application Period:
Spring semester: April
Fall semester: October
No. of participants:
5-25 students *Differs according to the programs
Eligibility:
Students who have completed level 1 in the program language or have equivalent language proficiency. (Some programs are available for students who have no basic language skills)
Credits:
2 or 4 credits *Differs according to the programs