Research project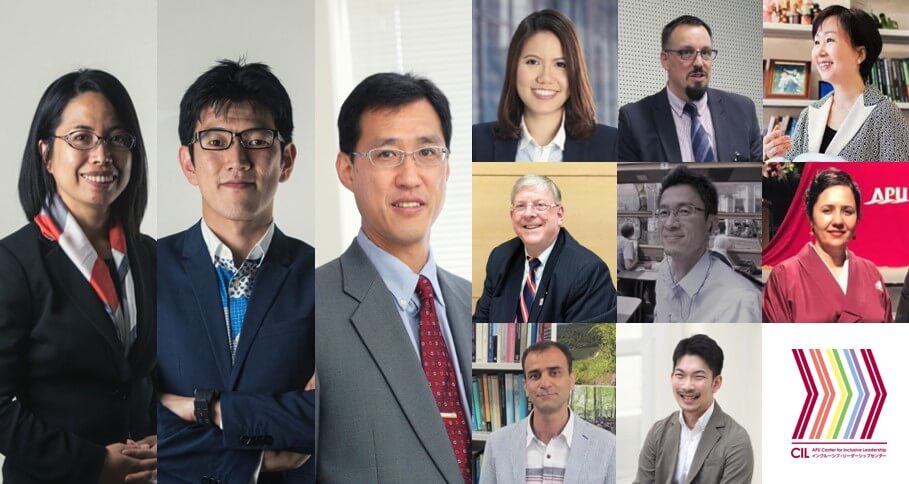 Inclusive leadership and corporate social responsibility in Japan, Gender differences in social entrepreneurship
Facilitating inclusive leadership on a diverse campus: Systemic perspectives and practices
Research Representative:

ROUX Petrus Willem, Associate Professor, APU, Deputy CIL Director
Global talent inclusion, Impact of inclusion on organizational performance and employee engagement
Diversity and inclusive leadership in higher education, Program development for inclusive leadership
Exploring the Determinants of Young Inclusive Leadership: Research Taxonomy and Theoretical Framework
Research Representative:

ACKARADEJRUANGSRI P. , Associate Professor, APU

Research group member:

MUMI Atthaphon, Lecturer and Assistant Dean for Research and International Relations, Mahasarakham University, Thailand
RATTANAPITUK Sirirat, Marketing Lecturer, University of the Thai Chamber of Commerce, Thailand
PAKHUNWANICH Pijak, Doctoral Researcher and University Teacher, Loughborough University, United Kingdom
Towards Inclusive Leadership in Japan's National Parks: Investigating the Potential of a 'Park Partners' Program to Improve Diversity
Research Representative:

JONES Thomas E., Associate Professor, APU

Research group member:

BUI Thanh Huong, Professor, APU
COOPER M.J.M, Visiting professor, APU
USUI Rie, Assistant Professor, Hiroshima University, Japan
Value-oriented Inclusive Leadership of Asia: Harnessing the Link between Varieties of Capitalism and CSR
The Development of Inclusive Leadership in the Medical and Tourism Industries in Oita Prefecture
Research Representative:

PARDO Phillip Dean, Professor, APU

Research group member:

COOPER M.J.M, Visiting Professor, APU
BENNETT Leigh, Managing Director, Institute for Tourism Leadership Australia, Australia
ROUAULT Frank, CEO, Practical Learning, France
CLASTER William B., Professor, APU
NOGUCHI Hitoshi, CEO, Noguchi Thyroid Clinic and Hospital Foundation, Japan
MEIRMANOV Serik, Professor, APU
Fostering the inclusive leadership of students and teaching assistants through multicultural groupwork
Research Representative:

KIMURA Rikio, Professor, APU

Research group member:

HIRAI Tatsuya, Professor, APU
SHIN Kimie, Professor, APU
CUTTING Miki, Associate Professor, APU
MAHICHI Faezeh, Associate Professor, APU
Examining the Potentials and Challenges of Grassroots Activism as a Pedagogy Framework for Implementing Inclusive Sustainable Development in Societies, Locally, Regionally and Globally
Research Representative:

MAHICHI Faezeh, Associate Professor, APU

Research group member:

ALCANTARA LAILANI L., Professor, APU
DASANAYAKE RANAHANSA, Lecturer, Institute for Applied Material Flow Management (IfaS), Trier University of Applied Sciences, Germany
HUISINGH Donald, Professor, Institute for a Secure and Sustainable Environment, The University of Tennessee, USA
TAKEKAWA Daisuke, Professor, University of Kitakyushu, Japan
ROUX Petrus Willem, Associate Professor, APU
Inclusivity and Resilience in Theory and Practice
Research Representative:

VAFADARI M. Kazem, Professor, APU

Research group member:

PARDO Phillip Dean, Professor, APU 
BENNETT Leigh, CEO, Institute for Tourism Leadership Australia, Australia
ROUAULT Frank, CEO, Practical Learning Co., France
HOLDENSON Wendy, COO, Mitsui Corporation, Australia
CHEN Loretta, Co-Founder, Common Purpose, Singapore
COOPER M.J.M, Visiting Professor, APU
A case study of inclusive class development based on UDL concept: Improving the 1st year seminar and mandatory language subjects at Ritsumeikan Asia Pacific University
Research Representative:

JUNG Jonghee, Associate Professor, APU

Research group member:

BERGER Maiko, Associate Professor, APU
SUMIDA Tamaki, Associate Professor, APU
TATEYAMA Hirokuni, Associate Professor, APU
TSUTSUI Kumiko, Associate Professor, APU
NOUTOMI Keiko, Professor, University of Teacher Education Fukuoka, Japan
CIL Working Papers
CIL Working Papers are published by the Center for Inclusive Leadership and are research papers intended for publication by APU researchers.
The objectives of the CIL Working Papers are as follows:
-Promote papers related to inclusive leadership and inclusion written by APU researchers.
-Share research results in a timely manner and receive feedback prior to publication.
Copyright: The copyright of CIL Working Papers belongs to respective authors.
Pedagogical Research