Feb 3, 2012
APUGSM 2012 Conference Welcomes 58 Researchers
The APUGSM Conference 2012 was held last January 20 to 21, 2012 at the Convention Hall and participated in by fifty-eight academic researchers from all over the world. Now on its second year, the conference theme is Advancements in Business, Economics and Innovation Management Research.
Dean Kenji Yokoyama delivered the welcome speech.

Academic journal editors delivered the keynote speech. Prof. Joseph Sarkis, Ph.D., dean of the Graduate School of Management of Clark University, Massachusetts, USA, presented "Green Supply Chain: An Overview". He currently edits top tier journals on management.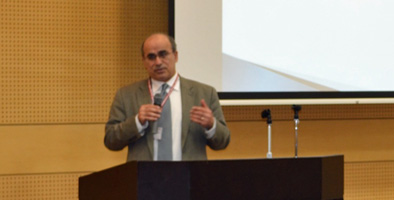 Prof. Maria Claret Ruane, Ph.D., the resident development economist of the Pacific Center for Economic Initiatives and Associate Professor at the School of Business and Public Administration of the University of Guam, presented the keynote paper, "Uncertain Economic Times in Guam". She edits academic journals for the Allied Academies.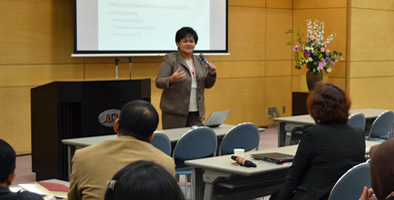 Prof. Tereso S. Tullao, Jr. Ph.D. is the Executive Director of the Angelo King Institute. A renowned Filipino economist, he is the chief editor of the DLSU Business & Economics Review. He presented the keynote paper, "The Philippine Economic Take-off: A Myth, An Elusive Reality, or an Anachronistic Perspective?"
Out of 172 abstracts received, APUGSM Conference accepted 70 presentation proposals or equivalent to 40 percent acceptance rate after a triple blind review process by the organizing committee composed of Associate Professor Michael Angelo Cortez (Conference Chair), GSM; Professor Robert Salazar, GSA; Associate Professor Behrooz Asgari, GSM; Assistant Professor Lailani Alcantara, APM; Associate Professor Victoria Miroshnik, APM; and Assistant Professor Faezeh Mahichi, APS. Forty-five final papers were received while seven (7) International Materials Flow Management (IMAT) students presented their research proposals.
Presenters based on nationality came from the following countries: Canada, Ecuador, Fiji, Germany, Ghana, India, Indonesia, Japan, Malaysia, Mexico, Pakistan, Philippines, Singapore, Sierra Leone, South Korea, Sweden, Taiwan, Thailand, USA, and Zimbabwe. Outstanding final papers will be peer reviewed by keynote speakers, selected peers and other reviewers. After a triple blind review, the acceptable papers will be recommended for publication in the Asia Pacific World subject to editorial review and revisions.
Likewise, outstanding papers will be recommended for publication in the peer reviewed journals like the Management Research Review Journal and the DLSU Business & Economics Review. The two-day academic conference was highlighted by the welcome reception dinner where student circles (APU Kendo Club, Vovina, Musitone, Chinese Chopsticks Dance, and Aileen Kitamura). Student secretariat support was provided by the AAA (APU Accounting Association), Bayanihan (Filipino Student') Circle and seminar class students of Prof. Cortez.
After the conference, the student secretariat also organized a Beppu-Yufuin tour to promote famous sites.
The event was made possible through the faculty initiated conference subsidy program of the Ritsumeikan Center for Asia Pacific Studies.
TOPIC

カンファレンス