Dec 21, 2015
On November 18 (Wed.), 2015, RCAPS welcomed Professor Morihiko Kinjo (Faculty of Tourism Sciences and Industrial Management, University of the Ryukyus) to deliver an RCAPS seminar entitled, "Issues on Tourism Macro Statistics."
[Report by APM Professor Mariner Wang]
In his 70 minute seminar, Professor Morihiko Kinjo (Faculty of Tourism Sciences and Industrial Management, University of the Ryukyus) talked about ①the current situation and challenges of tourism on Okinawa, ②challenges and policies for tourism on Okinawa, ③the Okinawa General Bureau's efforts to promote tourism, ④whether or not the economic effect of tourism is overestimated by the input-output model? ⑤whether or not TSA (Tourism Satellite Account) is useless.
Professor Kinjo first explained, using graphs, the current situation and challenges of tourism on Okinawa; then showed the transition in the number of inbound tourists and revenues from tourism, the average duration of stay, and the average amount consumed by per tourist; and concluded by discussing the future and challenges of tourism on Okinawa (how to extend duration of stay, expand foreign tourists, and increase amount consumed per tourist), using statistical data and graphs.
Specifically, he discussed efforts for achieving longer duration of stay and increasing the amount consumed by tourists, measures for including Okinawan culture in tour menus, infrastructure building to mitigate traffic congestion for smooth transportation, economic effects from tourism on Okinawa, and international standards of how to measure the economic impact from tourism.
In the Q&A session, there were many questions from the floor. 30 minutes was allocated for the Q&A session but it was extended by 10 more minutes and the seminar finished at 17:10.
The seminar was a substantial one. It was surely very informative for the attendees.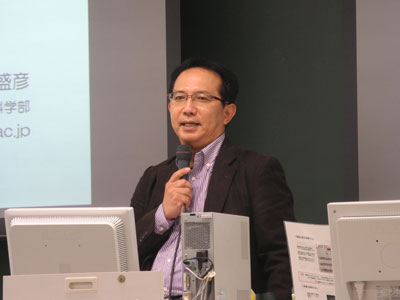 Professor Morihiko KINJO
TOPIC

セミナー