Oct 26, 2016
Report: RCAPS 20th Anniversary Symposium "Asia Pacific Studies: Looking Back into the Future"
On Wednesday, October 12, 2016, the Ritsumeikan Center for Asia Pacific Studies (RCAPS) held a symposium entitled "Asia Pacific Studies: Looking Back into the Future" to commemorate its 20th anniversary. Nearly 150 faculty, staff and students packed into H202 for the event.
The symposium kicked off with a lecture by the Founding President of APU and Trustee Emeritus of the Ritsumeikan Trust, Dr. SAKAMOTO Kazuichi. He discussed how scholars began to view the Asia Pacific region as a field of study concurrent with the economic growth of the countries in the region in the 1980s, and how the concept for APU's founding was developed in this context. He emphasized the importance of viewing the development of the Asia Pacific not only in terms of economic growth but also through the lens of civilization. Next, he focused on how the Asia Pacific region has diversified since Asia Pacific Studies was first established, and he stressed that the Asia Pacific civilization will come to play a leading role in the coming generation as it is not a monolithic but a globalized civilization. As an example of this, he touched on the fact that APU accepted students from Africa, Latin America, and other parts of the world in addition to the countries of the Asia Pacific.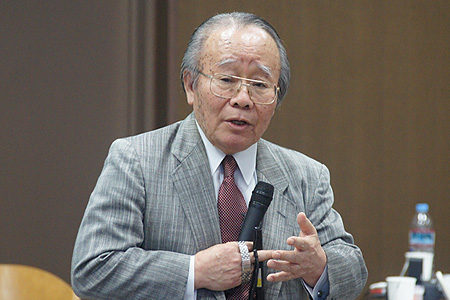 Dr. SAKAMOTO Kazuichi's "A New Phase in Establishing Asia Pacific Studies" is available here.
After this, RCAPS Director Francisco FELLIZAR moderated a panel discussion featuring Vice President YOKOYAMA Kenji, former RCAPS Director A. MANI, Dean of International Cooperation and Research SATO Yoichiro, Dean of Admissions KONDO Yuichi, and Associate Dean of the College of Asia Pacific Studies SEIKE Kumi. Each of the panelists talked about Asia Pacific Studies from their respective points of view.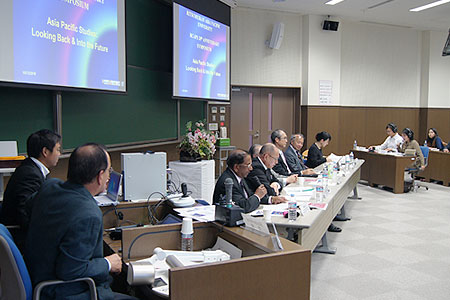 Participating students and faculty asked about the significance of RCAPS, the kinds of learning that the College of Asia Pacific Studies will offer going forward, and how students can use what they've learned at APU to contribute to the international community, among many other questions.
This coming November 5 and 6, RCAPS will host the 14th Asia Pacific Conference. Subtitled "The Changing Asia Pacific: Sharing Knowledge, Shaping the Future," this conference will feature renowned keynote speakers from overseas and aims to deepen the discussion on Asia Pacific Studies among scholars and graduate students from far and wide.
TOPIC

セミナー