Nov 14, 2016
Seminar Report "Regional Economics and Regional Policy in Korea"
On October 17, 2016, RCAPS welcomed Professor Iltae KIM, who works at Chonnam National University in Korea, to deliver an RCAPS Seminar entitled "Regional Economics and Regional Policy in Korea." This seminar was held in English.
[Report by Professor KIM Sangho (APM)]
At the seminar, Professor Iltae KIM examined and explained unprecedented economic developments that have been made in the developing world in the perspective of regional economics. He explained developing countries have different positions and locations in the global economy through development process and policy. He introduced regional economics as an economic discipline that deals with economy activities in locations and areas. He told that the fields of regional economics examine the effect of location and distance on economic activity. He also said that the principles of regional policy are the key to understanding how we got to where we are, why many development problems are so difficult to solve, and to design rural and urban development policy and programs as we look ahead. The lecture delivered an example of regional policy focusing on Korea, which had utilized comprehensive national territorial development plan throughout its rapid economic growth since 1960. The seminar provided both theory and a case study of regional development to students and officers of developing countries.
Professor Iltae KIM
(Chonnam National University)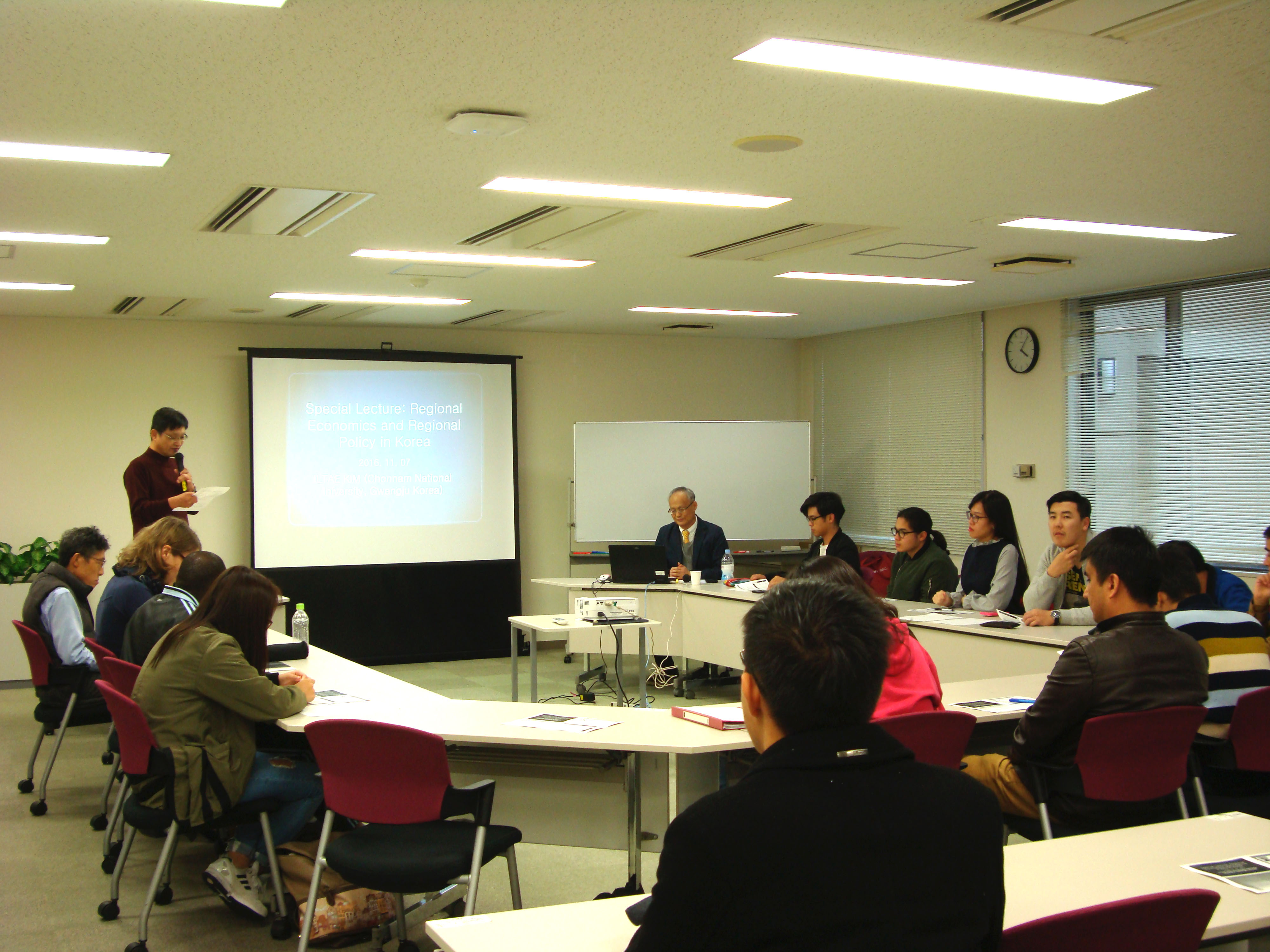 The seminar delivered the following topics in theoretical standpoint: 1) The concept of regional economics; 2) Two major categories of regions: functional (operational) and administrative (political); 3) Classifying regions. The seminar delivered the following topics in policy standpoint: 1) regional policy in Korea; 2) main strategy of support economic growth with basic infrastructure.
This seminar was intended to provide some insight into regional economic problems arising from economies that take an unbalanced economic development strategy. The strategy is taken as a necessity at an initial stage of economic development when a country with limited resources has to concentrate on certain part of region to develop infrastructure for industrialization first leaving other parts of the country left behind. I think participating students mostly from developing countries have some knowledge on issues on regional economic development from the seminar.
TOPIC

セミナー