May 13, 2022
RCAPS Seminar "What is industrial policy? Its objectives, history, areas, methods and recent trends"
On May 9, RCAPS welcomed Mr. Norio Nakazawa, Senior Fellow at Daiwa Institute of Research, and former bureaucrat at the Ministry of Economy, Trade and Industry to a RCAPS seminar entitled "What is industrial policy? Its objectives, history, areas, methods and recent trends".
Mr.Norio Nakazawa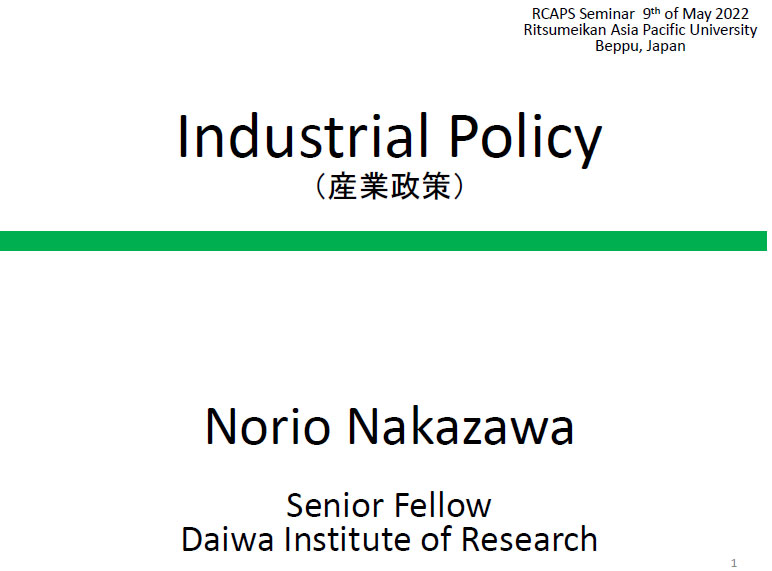 [Report by Professor Yoichiro Yamada (APS) as the seminar organizer]
Mr. Norio Nakazawa, an ex-METI official and currently a senior fellow of the Daiwa Institute of Research, made a 70-minute presentation on industrial policy. He explained categories, functions and tools of industrial policy, and explained in length the historical development of industrial policy in post-WWII Japan. The presenter touched on past patterns of industrial policy designs adopted by Asian countries (such as the "flying geese" model of industrialization), as well as the latest push for industrial policy pursued by big economies, such as the EU, the U.S., and China. Mr. Nakazawa also discussed the late governor Hiramatsu's idea for the promotion of local economy – the One Village One Product movement – as an impactful approach to industrial policy at the municipal level.
After the lecture, Prof. Natsuda and Yamada made brief comments on Mr. Nakazawa's lecture as well as on industrial policy.
The floor was then opened to questions and answers for the students, most of whom were doing post-graduate studies. The students asked about the applicability of industrial policy to the sectors of particular interest in the development of national economy of their respective countries, namely Tajikistan and Pakistan.
TOPIC

セミナー