Introduction
The term of the current Vice Chancellor who serves as the President of Ritsumeikan Asia Pacific University (hereinafter, "APU") will expire on December 31, 2017.
With regard to the selection of Vice Chancellors, Article 6, Paragraph 4 of the Ritsumeikan Trust Act of Endowment states that "Vice Chancellors are nominated by the Chancellor in consultation with the Chairman of the Board and selected by the Board of Trustees." Taking in account APU's recent achievements and potential future developments, it has become necessary to select a president for APU from among a wider field of candidates, and this must be someone who can unify the university's diverse constituencies while enhancing its profile both at home and abroad.
Furthermore, as APU approaches its 18th anniversary, its presence at home and abroad is growing significantly on the back of the SGU subsidy award and the acquisition of accreditation from the internationally renowned AACSB. To ensure its continued trajectory of growth, APU must further promote its progressiveness and academic excellence as an international university and harness the power of its culturally diverse constituent members to undertake initiatives aimed at achieving the targets of the SGU Project and other goals.
To this end, it is absolutely crucial for the president, as APU's leader, to possess leadership and the ability to unify people. In addition, it is expected that reflecting the wishes of APU's constituent members in the APU presidential candidate selection process and selecting presidential candidates by APU's constituent members with a far and wide field will provide the Chancellor and the Chairman of the Board with a wider array of candidates to choose from.
List of Current & Former Presidents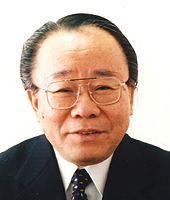 SAKAMOTO Kazuichi
January, 2000 ~ March, 2004
Monte CASSIM
April, 2004 ~December, 2009
KORENAGA Shun
January, 2010 ~
Application Form
APU Presidential Candidate Selection Committee Meeting
・1st Meeting

(May 19, 2017)

Minutes (PDF)
・2nd Meeting

(May 26, 2017)

Minutes (PDF)
・3rd Meeting

(June 9, 2017)

Minutes (PDF)
・4th Meeting

(June 16, 2017)

Minutes (PDF)
・5th Meeting

(June 30, 2017)

Minutes (PDF)
・6th Meeting

(July 7, 2017)

Minutes (PDF)
・7th Meeting

(July 14, 2017)

Minutes (PDF)
・8th Meeting

(August 24, 2017)

Minutes (PDF)
・9th Meeting

(September 26, 2017)

Minutes (PDF)
・10th Meeting

(October 5, 2017)

Minutes (PDF)
・11th Meeting

(October 18, 2017)

Minutes (PDF)
・12th Meeting

(November 6, 2017)

Minutes (PDF)