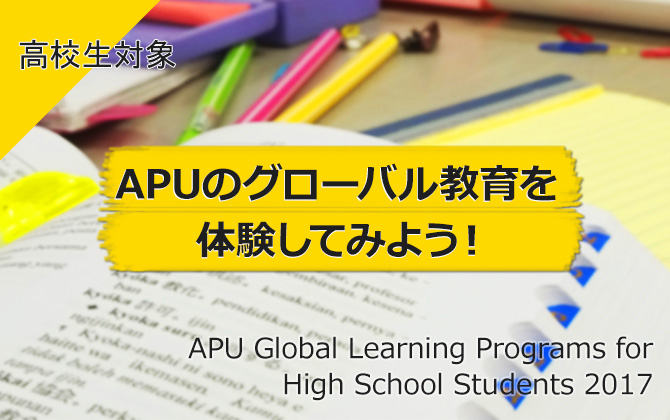 At APU, we practice global learning, leveraging the university's tremendous multicultural environment. During the 2017 summer break we will hold summer programs in Tokyo, Osaka, and Oita, enabling high school students to experience what it is like to study at APU.
Summer Program 1: "Experience Lectures in English" Program in Tokyo/Osaka
These lectures are ideal for…
People who enjoy and/or are proficient in English. 
People who want to take advantage of their experience studying abroad or living overseas. 
People who have an interest in internationally-inclined universities.
People who want to study abroad.
Recommended English Levels
Advanced participants: Around TOEFL® ibt 61, EIKEN Grade Pre-1 or higher
Intermediate participants: Around TOEFL® ibt 42, EIKEN Grade of Pre-2 or 2
Please note that these English proficiency test scores only serve to indicate the level of English in the mock classes conducted. You do need to have reached those scores or obtained a test-based qualification to participate in this program.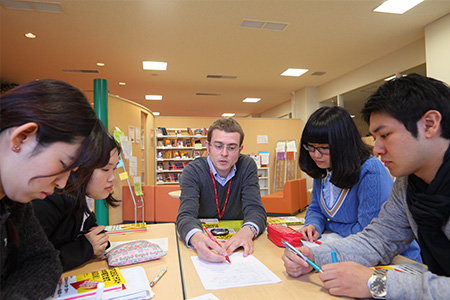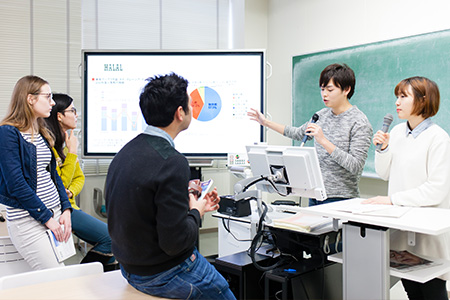 Through this program, you can:
1. Experience APU classes, conducted in English.
2. Participate in either Tokyo or Osaka, whichever location is closest to you.
3. Experience interactive conducted by APU faculty.
4. Participate in discussion and English-learning interactions with both Japanese and international students from APU.
5. Participation is FREE! (Admission is on a first-come, first-served basis.)
Date & Time
Saturday, July 22, 2017
14:30-17:00
Sunday, July 23, 2017
14:30-17:00
Location
Osaka
Tokyo
Venue
TBA
Ritsumeikan Tokyo Campus
Description of Program
Mock classes conducted in English, group work with international students conducted in English, information session about APU with advice on entrance examination, and other information.
Eligible Participants
First-, second- and third-year high-school students
Capacity
Participants with advanced English ability: 20
Participants with intermediate English ability: 30
Application Details
Available online (Undergraduate (Domestic))
Applications will start being accepted in mid-May
Inquiries
Contact:
Admissions Office, Ritsumeikan Asia Pacific University
TEL. 0977-78-1120 OPEN: 9:00~17:30 (generally closed on Saturdays and Sundays)
Email. apumate@apu.ac.jp

Summer Program 2: "APU Summer School" – Spend Your High School Summer Intermingling with the World While in Oita (Conducted on APU Campus/in Beppu City)
We recommend "APU Summer School" for the following people!
Those who want to enhance their speaking and listening skill in English and prepare themselves for EIKEN interviews.
Those who want to have an international experience during their high school summer break that cannot be enjoyed elsewhere.
Those who want to experience campus life at APU right in Beppu City, Oita Prefecture.
Recommended English level for participants: People looking to obtain an EIKEN Grade of Pre-2 or 2EIKEN Grade of Pre-2 or higher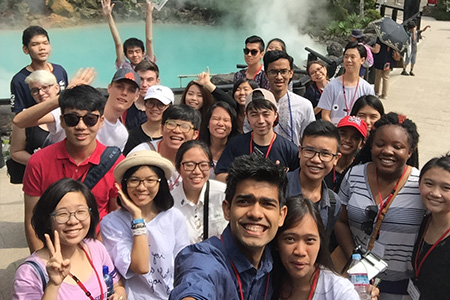 Through this program, participants will…
1. Experience conversation-intensive English classes conducted by English-language instructors at APU.
2. Interact and make friends with high-school students from around the world.
3. Stay in a student dormitory and experience dorm life.
4. Explore Beppu on foot and discover the allure of the city's famous hot springs.
5. Be supported by both Japanese and international students at APU.
Date & Time
Tuesday, August 1 – Saturday, August 5, 2017 (four nights, five days)
Location
Ritsumeikan Asia Pacific University (APU)
Venue
On APU campus and in Beppu City, Oita Prefecture
Site of Stay
AP House (Seminar House), an on-campus dormitory
Description of Program
Classes conducted in English, presentations in English, group work with international students, interaction with high-school students from around the world and explore Beppu and its hot springs on foot
Eligible Participants
First-, second- and third-year high-school students
Capacity
40 participants
Cost to Participate
35,000 yen
Includes participation expenses, textbook expenses, accommodations expenses, insurance premiums and meal expenses (breakfast and dinner only).
Does not include cost of round-trip transportation to and from APU, lunch money, expenses incurred when exploring Beppu City on foot, or other expenses.
Application Details
Available online (Undergraduate (Domestic))
Applications will start being accepted in April
Inquiries
Contact:
Admissions Office, Ritsumeikan Asia Pacific University
TEL. 0977-78-1120 OPEN: 9:00~17:30 (generally closed on Saturdays and Sundays)
Email. apumate@apu.ac.jp