On Sunday, January 11, 2009, 148 graduates and faculty staff gathered at the APU campus and attended the noon and evening sections of an alumni reunion for 2nd year students (students who either entered APU in 2001 or graduated in 2005). This reunion was proposed by OKABAYASHI Tatsushi (Grad. AMP, Spring '05), TADACHI Keiichi (Grad. APS,Spring '05) and MATONO Kosuke (Grad. AMP, Spring '05).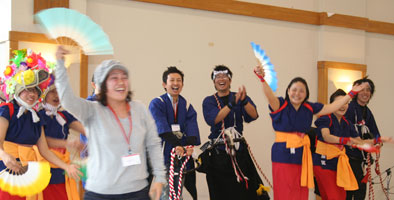 Professor SAKAMOTO Kazuichi, the APU President at the time the 2nd year students entered APU, celebrated meeting the graduates again as he gave a toast. 2001 (APU's 2nd year since its opening) faculty staff, who worked hard to create circle and formal class activities, also attended and spoke of their joy at seeing the development of the 2nd year students

During the noon section, there were performances by current members of Wadaiko "Raku" which was established by the 2nd year students and is still active and Araumaza "Chiyo" which was established by 3rd year students. There was also a performance by the original members of the music circle LIFE MUSIC who performed Etupirka and SUKIYAKI, songs which they performed when they were students (Lyrics: EI Kurosuke, Composer: NAKAMURA Hachidai).

After this, the participants broke off into groups such as "APS/APM", "I'm married", "I live in Kanto/Kansai/Kyushu/other" and reported to each other what they are currently up to. The graduates followed this up with more typical APU activities such as exchanging souvenirs which they brought along from the various areas they are active in.
During the evening section, there was a display of nostalgic images of their time at APU and a quiz event about the APU of today. There were many surprised and happy remarks at how APU has changes over the years.

YAMAZAKI Fumihiro (Grad. APS, Spring '05) said, "I'm sure that my memories of my time here as a student at APU and meeting up with my old school buddies will enrich my future life and job just as this reunion has. I hope that there are more such opportunities in the future."

The 2nd Year Alumni Reunion has been carefully planned and widely supported since the 1st Year Alumni Reunion, held in January 2008.

One of the proposers of this event, TADACHI Keiichi said, "When we came up with this plan we had no idea that so may people would participate. We are so thankful to everyone who supported us with their offers to help. We hope that this becomes a regular event and we will be pleased to see exchanges with the different regions expand."

Furthermore, an appeal went out during the reunion for donations to be managed by the university and put towards the development of current students and APU's future development. A total of ¥69,668 was raised. Thank you to all who contributed.

Please visit the Alumni Homepage for more information on the 2nd Year Alumni Reunion.