On Wednesday, January 8, 2009, the 2008 Fall Semester Information System Assistants and Library Assistants Conferral Ceremony was held at the APU Convention Hall.Information System Assistants are called Information "SAs" on campus and provide support when technical problems occur in the information processing facilities. Furthermore, Library Assistants are called "LAs" and provide support with the running of the library and the students' research and studies.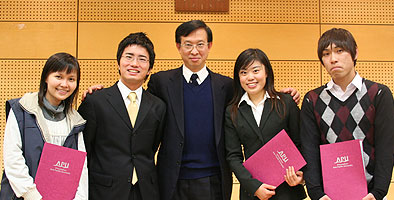 Graduate School of Management, Professor WANG Mariner presented a certificate of completion to the 4 SAs and 6 LAs who attended the ceremony. After speeches by the recipients a group commemorative photo was taken with the other SAs and LAs who attended the ceremony.

At the end of the proceedings, KAWASAKI Yuhei, representing SAs, and CHAKRABORTY Abhik, representing LAs spoke about what they had gained through their experiences.

KAWASAKI Yuhei (APM4, Japan)
"I feel that the experience of being a student management assistant of the school information system in this global environment of APU was very worthwhile. I was able to keep my skills up to date with the latest technology which I hope will come in handy when I go job hunting."

CHAKRABORTY Abhik (APS4, India)
"For me, the APU library was more like a family than a place of work. As LAs, we spoke at length about how to improve peoples' manners in the library. We all had our strong and weak areas but I feel that it was very important that we all endeavored to create an even better library."

We look forward to seeing the graduating SAs and LAs putting the skills and experience they gained during their staff tenure to good use as they each progress in their lives.
Reporter: KOIKE Yuki (APS1, Japan)