On Sunday, January 11, 2009, 25 members of the APU Karate Organization performed an ocean training dill at Oojuuki Beach, Oita City.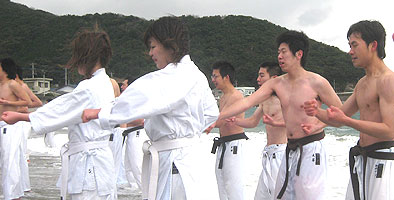 This was the first time the APU Karate Organization had experienced an ocean training drill. This was made possible through an offer by the Akeno Training Hall, the karate training hall their karate instructor Mark POSSELIUS Sensei attends.

Approximately 100 people participated in the ocean training drill including the APU Karate Organization and the Akeno Training Hall. The participants meditated, practiced their form and carried out their basic training on the shore line after they had cleaned up the beach. Following this, the adults of the group entered the ocean topless and practiced their karate thrusts. Although the training drill took place under a harsh snowy winter sky, it proved to be a valuable opportunity for the wide range of karate fans of all ages who gathered to temper their spirit and deepen their exchanges with participants from different training halls.

At the conclusion of his training, APU Karate Organization representative OTANI Yushi (APS3, Japan) spoke of his and the karate organization's aspirations, "We were all able to enter the sea, show our vigor to each other and temper our spirit to attain a spiritual state of perfect selflessness. I now feel that through this I can do my best this year. In the future I want to actively participate in our usual activities and also in bouts off-campus and exchanges with other universities."

The APU Karate Organization was established in 2000 –the same year as APU. There are currently 25 members including 19 international students working hard in their practice. OTANI Yushi and KU Shousei (APM3, Japan) participated in the men's singles and won 1st and 2nd prize at the Oita Prefecture Goju Festival held in April 2008.