On Wednesday, January 7, 2009, the Student Press Assistants (SPA), a student organization centering on reporting news items for the official APU website, went into action.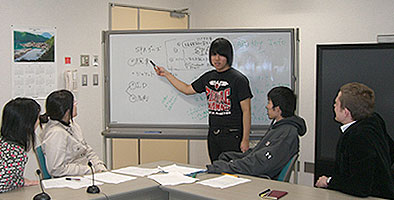 The main aim of the SPA is to keep students and the outside world informed of the various events and activities going on at APU from a student's unique viewpoint. SPA will provide a wide range of valuable information for current students, potential students, graduates, parents, faculty members and to the general public and propose plans to enrich the publicity activities of APU. SPA will provide information of, cover and report such events as student circle events, exhibition information and award ceremonies.

The inaugural seven SPA's are made up of the following domestic and international students: HOSAKA Ryosuke (APS1, Japan), KOMORI Midori (APS1, Japan), KOMINE Kazuya (APM2, Japan), KOIKE Yuki (APS1, Japan), SASANO Sakura (APS2, Japan), PARK Songyi (APM2, Korea) and LEE Eunhyu (APS3, Korea).




The first SPA task was done by KOIKE Yuki (APS1, Japan) who covered the AY2009 Fall Semester Information SA & LA Conferral Ceremony. He actively took photos and notes of the proceedings and interviewed some of the participants to hear their comments.

The members of SPA are looking forward to providing you with more interesting news and information about the events and activities at APU.
Reporter: LEE eunhyu (APS, Korea)


Please click here for the first SPA news article reported by Mr. KOIKE