On Sunday, May 3, 2009, the APU Student Circle Samulunori Team (Shinmyoung) gave a performance of the traditional Korean Peninsula Samulunori (*) music at the Nango-Spa Spring Festival in Miyazaki Prefecture.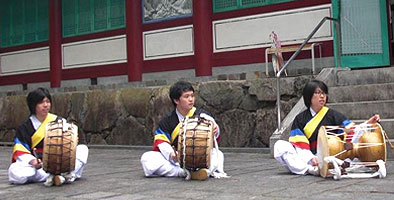 Misato Town has historical ties with the Korean Peninsula dating back from the legend which tells of the Baekje (Kudara) Royal Family using their friendly relationship with the Yamato kingdom to escape war on the Korean Peninsula. They drifted ashore at Hyuga no Kuni (the current Miyazaki Prefecture) and then settled in the Misato Town area. There are still many bronze mirrors and tombs said to be relics of the Baekje Royal Family.

This is the 5th year that Shinmyoung has participated in the Nango-Spa Spring Festival. They gave a range of performances with the locals using traditional Korean instruments such as the Buku (big drum), Changu (Korean drum) and Kengari (small metal drum).

Looking back on her performance, Kin NODOKA (APS2, Japan) spoke of her impressions, "I think that many people had a good time watching us perform. Performing in public with Nango Village locals was a very valuable experience."

"Shinmyoung" is a student circle which performs "Samulunori" -a traditional type of folk music native to the Korean Peninsula which uses 4 types of traditional instruments. Shinmyoung was established in 2003 and currently has 48 members including approximately 28 international students. Samulunori was established aiming to introduce Korean traditional arts to the outside world. They perform not only in Kyushu but also at a wide range of events such as at the 10th anniversary celebrations held at the Ritsumeikan Office in Korea.

*Samulunori:
Samul in Korean means "4" and nori means "play". Put together they mean to 'perform using 4 types of Korean Traditional instruments' (direct translation: to play with 4 things).
Reporter, Student Press Assistant (SPA): KOIKE Yuki (APS2, Japan)