On Monday, May 18, 2009, the Republic of Colombia Ambassador to Japan, H.E. Ms. Patricia CARDENAS visited APU and enjoyed a chat with Vice-President COOPER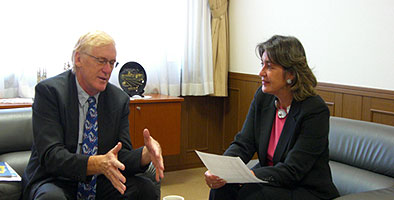 H.E. Ambassador Ms. Patricia CARDENAS and Vice-President COOPER discussed a range of issues including Oita's involvement in the One Village One Product movement and Colombia's interest in the Asia-Pacific region. During their conversation Vice-President COOPER gave an introduction of APU and described the possible links which could be forged between APU and Colombia and the One Village One Product movement, "The former Governor of Oita Prefecture was a great advocate of the OVOP movement and thanks to his efforts, Oita has been able to develop both in terms of infrastructure and also economically" to which the Ambassador replied, "The OVOP movement is very popular in Colombia and we are therefore very keen to develop close ties with both APU and Oita Prefecture"

The pair also discussed the possible links that could be developed including the dispatch of exchange students and potential links with universities in Colombia.

At the conclusion of their discussion the H.E. Ambassador Ms. CARDENAS presented Vice-President COOPER with a gift of Colombian Coffee and Ms. CARDENAS also agreed to become a member of the APU "Advisory Committee" support organization.

After their chat, the group enjoyed a tour of the campus including the Cafeteria and Library.

There are currently 25 students from the Latin American region studying at APU (as of May 1, 2009). Let's hope that through stronger links with Colombia we can add Colombian students to the ever increasing multicultural APU campus.