学生生活|講演・シンポジウム
Jun 10, 2009
ON Sunday, May 31, 2009, Dean of International Cooperation & Research Professor SANGA-NGOIE Kazadi delivered the keynote speech and graduate student CHAKRABORTY Abhik (GSAD, India) gave a speech on the water situation in his home country at the Student Water Summit youth forum hosted by Soroptimist International Beppu and held at b-con Plaza, Beppu City.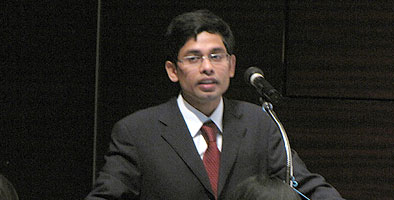 Forty Beppu City high school girls attended the summit in addition to the 20 APU and Beppu University students including approximately 13 APU international student facilitators.

During his speech on the theme of "Imagine a life without Water", Professor SANGA explained that less than 1% of the water on our planet Earth, the so called "Water Planet" due to being 70% covered by water, is usable in our daily life. He went on to introduce two predicted scenarios of desertification and damage caused by floods due to global warming and made proposals regarding global warming prevention activities, re-thinking our life style and tree planting efforts to prevent desertification.

Mr. CHAKRABORTY spoke of the water situation in his home country, India, "Water related problems are felt across many different sociopolitical levels including poor subsistence farmers who are increasingly being marginalized in the river basins due to an array of economic, social and political factors mainly as a result of the processes of urbanization and globalization."

The participating high school students discussed and presented initiatives to tackle the issue with the aid of the facilitators based on their preliminary investigation, Professor SANGA's speech and the student water speeches. Five students were commended for the excellent presentations and Professor SANGA presented each of them with a certificate.