One hundred and sixteen 5th year Ritsumeikan Primary School students will be at APU from Tuesday, June 16 until Saturday 20, 2009, to participate in the APU Camp to experience inter-cultural communication.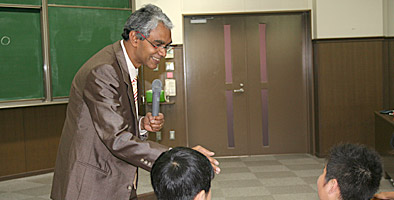 Following this, they were introduced to the international students (buddy) who will support their various activities on the APU Campus. The buddies received a warm welcome from the children and were greeted by a round of applause. Each group then waved to their buddy as they were introduced, shook hands with them, and gave a self introduction in English.

In response, two student representatives replied in English as they spoke of their will to learn during the APU Camp, "We have to learn a lot about world cultures and people in APU. We study English hard at school. During the APU camp we will try our best to communicate in English".

At the welcome party, President Monte CASSIM introduced his native country of Sri Lanka and explained to the children the significance of the APU Camp as he gave a few words of greeting, "It is very important to learn English as a tool to understand different cultures make friends with people from countries around the world. I hope that you can make lots of friends at APU."

Following this, the groups will then deepen their friendships with their buddies on the APU Campus and the Beppu Municipal Camp Site "Ojika". During their stay they also plan to participate in the Vietnam Week Grand Show by singing a Vietnamese song in addition to inter-cultural experience lectures and interviews with international students making use of the APU environment.