On Thursday, June 18, 2009, H.E. the Vietnam Vice Minister of Agriculture and Rural Development Ho Xuan HUNG visited APU and enjoyed a talk with President Monte CASSIM.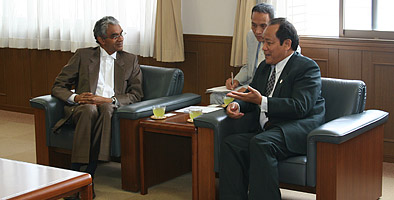 After delivering a few words of thanks to the Vice Minister for visiting APU, President CASSIM said, "The Vietnamese students we have studying at APU are excellent and have the strength to become future leaders of their home country. APU is moving forward with human resource development programs in cooperation with a range of countries and hope to play a role in the development of Vietnam through the development of excellent human resources".

In response, Vice Minister HUNG expressed his thanks at the acceptance of Vietnamese students and said, "The development of human resources is vital for the development of Vietnam and our students have a great interest in studying in Japan. We hope that our students can build up knowledge and experience in the world and play a role in the development of our country".

During their discussion, President CASSIM who once visited Vietnam during his time working at the United Nations said, "When I was a student, my Vietnamese friends used to jealously say `I wish I had a country to return to like you' and I remember these words to this day". To which Vice Minister HUNG replied, "We thank you for having an understanding feeling towards our country when we were suffering during war time."

Four Vietnamese students also attended the discussion and listened in intently. After President CASSIM left, a place was provided for the students to enjoy a talk with the Vice-Minister and the students actively answered questions about their campus life and studies in Japan.

There are currently 218 Vietnamese international students studying at APU (as of May 1, 2009). APU and Vietnam continue to enjoying a cooperative relationship including a cooperation agreement with Ho Chi Minh City Vietnam National University and the holding of short-term training programs in Vietnam.