On Sunday, June 7, 2009, five APU students VAILLANT Francois (APM, France), INOUE Yuto (APM2, Japan), KOJIMA Hiroya (APM3, Japan), KITAHARA Takeru (APS2, Japan) and SAUDER Michael L (APM4, Canada) participated at the Japan Professional Kickboxing Association hosted D-MUSHA FIGHT held at Tanoura Beach, Oita City, of which 4 fighters posted wins.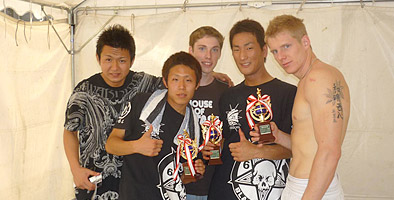 The five fighters took part in official amateur "under-guard" preliminary bouts as part of the Japan Professional Kickboxing Association's nurturing of up-and-comers. There was also a pro-exhibition bout and numerous fans crowded the arena in which many fighters wore helmets.

The fighters fought with all their ability including students who claimed their debut win, students invited from Kansai who claimed hard-fought wins, and students who fought well but were defeated.

Looking back on the contest, APU Kickboxing Circle representative and winner by TKO Mr. INOUE spoke of his ambitions for the future, "This was everyone's first official bout since entering APU, but I am very happy that we were able to display our full strength and post some good results. I hope many people come to know the charm of kickboxing and I hope to continue to be active in the future."

Established in 2002, the APU Kickboxing Circle currently has 22 domestic and 20 international student members including 10 females. While some members simply wish to diet, other members aim to enter bouts. The students create their training routine and are working hard in their training across three levels. They are working hard to make kickboxing popular and every year participate in the Multi-Discipline Contest at the APU Campus Festival "Tenku".

A Multi-Discipline Contest is planned to be held this year on Saturday, October 24, and Sunday 25, 2009, at this years "Tenku" Festival with the cooperation of the "Tenku" Festival Executive Committee "Base Event". Let's look forward to future achievements by the APU Kickboxing Circle.