A three-week regional development training program was held at APU from June 14th until July 4th. The program focused on the One Village One Product movement, and was participated in by a total of 10 public officers from 5 ASEAN countries, including Cambodia and Timor-Leste. Delegated by the Japan International Cooperation Agency (JICA), this was the 3rd year that APU has conducted the program. In addition to attending lectures about Community Capacity Development that covered theory, evaluation, and case studies, the participants were also able to visit and listen to lectures at various sites in Oita prefecture that are successfully carrying out regional development.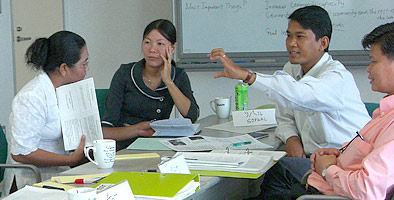 Lectures in APU were given by Prof. MIYOSHI Koichi (APS), Prof. TAKAMOTO Akihiro (APM), Prof. YAMAMOTO Susumu (APM), and Prof. Fellizar (APS). APU doctoral students also played an active role in facilitating group discussions.

On Friday, June 26th, a lecture was held titled "Community Capacity and Rural Development for ASEAN Countries." This lecture looked at an approach to rural development that differs from urban development, and expanded into a discussion that connected the development of ASEAN Countries to the One Village One Product movement – through policy planning, creating value-added products, and community capacity development.

During a case study based on the experience of Oyama Town, STENNING Naomi (GSA, Australia), one of the program facilitators, spoke about the importance of leadership in communities. "Communities have the ability to decide for themselves how to deal with the problems they are facing and develop their community. This is why leadership is important for communities – and why it is essential to identify potential leaders that already exist within the community."

During their stay here, the program participants also visited and attended lectures at sites such as Oyama Town, Kurokawa-onsen, and Bungo Takada city's "Showa-no-machi." In addition, they were able to experience green tourism while staying at a guest house in Oyama Village.

One of the participants, SOARES Cipriana from Timor-Leste, shared that "this program was very useful because I can apply what I have learned to real situations in my home country. I want to use the knowledge and experience that I have gained here for the development of my country."

Since being commissioned by JICA in 2005, program trainees have been coming to APU from many countries around the world. Oita Prefecture is known internationally as being the origin of the One Village One Product movement, which led to APU receiving trainees from Africa, Chile, the Philippines, Laos, and other countries in 2008.
Reporter, Student Press Assistant (SPA): Virgi Agita Sari (APS2, Indonesia)