On Wednesday, July 1, 2009, the APU student circle "Life Music" delivered their Summer Concert at the Cafeteria and played 8 pieces including popular drama theme songs and pieces by famous artists.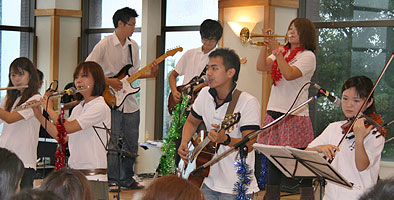 Opening with "Under the Sea" the theme from Disney's "The Little Mermaid", the attention of the crowd of students in the middle of lunch and faculty staff was soon drawn to the melodic tunes coming from the stage. Following this, they gave renditions of typical Eric Clapton tunes and performances of "Tokyo et Paris" the theme song from the popular TV drama "Nodame Cantabile" which received rapturous applause and cheers from the audience. Following their powerful performances of American rock music, they responded to the calls for an encore from the audience and brought the concert to a close with a rendition of a piece from a famous Korean singer.

In charge of lighting, the APU circle "Technical Co-operation Switch" took part and added their special touch to the fine performance.

Looking back on the performance, ""Life Music" representative KIM Yon Woo (APS2, Korea) spoke of her ambitions for the future, "I am thankful that our performance was heard by so many people. I sensed that for one wonderful moment the performers and audience were one, for which I am truly happy. We will focus on the Winter Concert and continue to practice so that we perform songs from a range of countries".

Active since 2001, Life Music has approximately 40 members and under the concept that "there are no borders in music" has been focusing their activities on on-campus events. Furthermore, they are also trying their hand at a range of genres in a circle environment where over half of the members are international students. They are planning for a joint performance with the Ritsumeikan University circle "Pease" at the fall semester "Winter Concert" and practicing hard to present music of an even higher quality. Let's look forward to their future events.