From Monday, July 6, 2009, until Friday, July 10, APU played host to a group of high school students from Abu Dhabi as part of the "Michi The Japanese Way" 2009 Summer Camp Program. This was a collaborative program between APU and the Mitsubishi Corporation and welcomed 8 students from Al Dahaama Model School and Al Maali Model School. The group was accompanied by two teaching staff members and one parental guardian.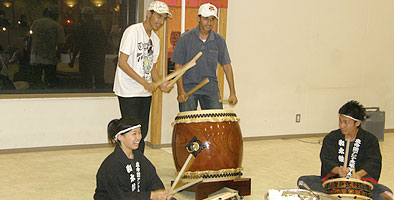 This program was planned with the aim of introducing Abu Dhabi high school students to Japan and APU as part of education cooperation and came about when the Ministry of Economy, Trade and Industry and APU President CASSIM met with H.E. Sheikh Nahyan Mubarak Al Nahyan, Minister of Higher Education & Scientific Research; The Abu Dhabi Education Council (ADEC) and the Japanese Ambassador to the United Arab Emirates, Takuma HATANO.

After arriving at APU they were welcomed by President Monte CASSIM who encouraged the group to "become friends with Japan and enjoy your time on campus". Following this College of Asia Pacific Management Dean, Professor YOKOYAMA delivered a lecture entitled "Cool Japan: Japanese Trends" in which he described popular Japanese companies such as UNIQLO, MUJI and the 100yen shop DAISO.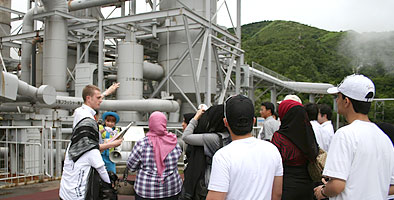 The group enjoyed a range of informative lectures, went on field trips to the Umitamago Aquarium and the group enjoyed meeting and exchanging with students from Oita Uenogaoka High School.
On Thursday, July 9, the group visited the Kyushu Electric Power Co. Geothermal Power Plant in Kokonoe Town and accompanied by a tour guide, gained an insight into the workings of one of Oita Prefecture's key power plants.

Looking back on the camp, one of the participants commented on her impressions of Japan, "We live in the dessert so we love to experience rain and see the green hills and blue sea. The Japanese people were so friendly and I really enjoyed my time in Japan".

There are currently 15 students from the Middle East studying at APU (as of May 1, 2009) and APU continues to build up strong ties with the region. Let's hope that more students from that part of the world come to APU and ad their special flavor to our multicultural environment.