From Monday, July 20, 2009, Korean Week, the final installment to the Multicultural Weeks for the fall semester, got underway.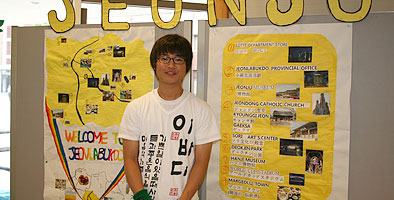 Introducing Korean Tourist Spots

Every year at APU where students from 87 countries and regions come together, we hold Multicultural Weeks to introduce and throw the spotlight on the culture and languages of these countries and regions. 

Adding a final touch to the semester, during Korean Week you are able to taste an array of Korean cuisine available at the Cafeteria and have a look at posters of Korean tourist spots and pamphlets available at the display booth also in the Cafeteria. Furthermore, there is a range of other events to introduce the charm of Korea such as a Korean cooking class for students, an outdoor song, instrument and dance performance, and documentary and movie screenings.

There are currently 702 Korean students studying at APU (as of May 1, 2009) and based on enrollment numbers they make up the largest portion of the international student body. Furthermore, the Language Center has been set up and is engaging in the teaching of Korean as one of the languages of the Asia Pacific region (AP Language). APU also provides students with opportunities for real-life field studies and exchange in Korea.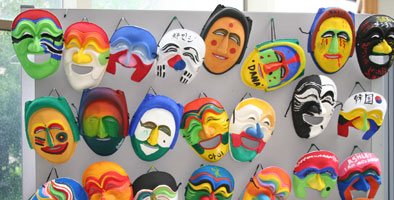 Mask making experience

Schedule for Korean Week:
Monday, July 20 – Friday, July 24
10:00 – 17:00 @ Cafeteria
Korean Tourism Display (Tourism poster display and pamphlets)
12:35 – 14:00, 16:05 – 17:40
Mask making
Thursday, July 23, 18:30- (doors open 18:00)
Movie screening (host: KOREMON) @ Millennium Hall
Thursday, July 23, 19:00–
Performance @ WAVE Amphitheatre
Friday, July 24, 18:30 – 20:30 (doors open 18:00)
Grand Performance @ Millennium Hall

*The participating countries in the Spring 2009 Multicultural Weeks are as follows:
Monday, June 15 - Friday, June 19: Vietnamese Week (finished)
Monday, June 22 - Friday, June 26: Chinese Week (finished)
Monday, June 29 - Friday, July 3: Indonesian Week (finished)
Monday, July 14 - Friday, July 17: Thai Week (finished)
Monday, July 20 - Friday, July 24: Korean Week

*Multicultural Week is sponsored by the Nakajima Foundation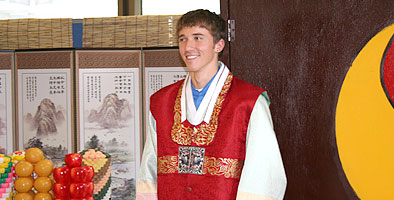 Trying on a Traditional Korean Costume