教育プログラム|学生生活
Aug 10, 2009
From Saturday, August 1, through to Monday 3, 2009, the APU Summer Camp was held for highly motivated high school students from around the entire country who gathered again this year on the APU campus.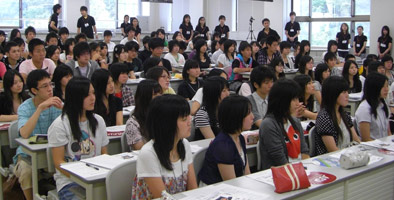 The APU Summer Camp is a 3day, 2night program which aims to deepen students' understanding of the issues of international society and consider its future through study with APU students who come together from around the world. The program, now in its 10th year, every year receives many applicants from throughout the country.

During the Summer Camp, the participating high school students stayed at the AP House student dormitory, received lectures by university faculty and received support and advice on study methods over the three days from their supporting Teacher Assistants (TA). Furthermore, they learnt together though study and discussions with their TA's and on the last day, gave a presentation which brought together the events of the whole program. Students who won group or individual awards at this presentation were awarded with a certificate a memento.

At the conclusion of the camp, the participating TA's and high school students took photographs of each other, gave a few words of encouragement as they prepare to take their admissions exams and promised to meet again in spring next year.




Looking back on the full schedule of the 3 day camp, the participating high school students gave their impressions of their time at APU, "Seeing the TA's working so hard was a great motivation", "Initially I thought of the other participants as rivals, but over the course of the 3 days, I came to see them as friends with similar aspirations and goals", "It was a very valuable 3 days in which I could exchange opinions with participants from other prefectures."

TA representative HUGHES Jack Koki (APM3, Japan) gave a few words of encouragement to the students as they prepare to take their entrance exams, "Seeing the participating high school students get so involved and the solid content of the program, I was able to feel the value of being a TA. I say to students facing their entrance exams that 'a genius can't be a genius without effort'".