学生生活|講演・シンポジウム
Aug 12, 2009
On Thursday, July 23rd the APU student circle "SMiS" held its first school improvement symposium entitled "Defining a Better Smoking Environment at APU". 13 students attended.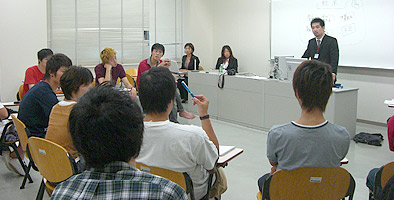 School improvement symposiums are venues for students to propose what they feel are issues with university programs and systems and to hold discussions and present proposals for solutions. In light of the Ritsumeikan Trust policy to make all campuses smoke-free by 2013, the SMiS conducted a preliminary survey and gave presentations and held discussions on topics such as "Issues with the current smoking environment", "Can the campus really become smoke-free by 2013" and "What can we do to improve smoking etiquette."

Participating students opined: "There is only one smoking shelter; can't the university build more?" and "Wouldn't smokers' manners improve if you distributed portable ashtrays?"

"SMiS" representative YANAGIHARA Akira (APM3, Japan) commented, "We conducted a preliminary survey on smoking and held some presentations. Discussions were lively and fruitful. We are planning a large-scale smoking symposium for the fall semester. I hope that student opinions will be reflected in university policy."

"SMiS" was founded in 2007 and currently has 25 members. Its aim is to develop skilled human resources for the real world and its members create business plans, enter business contests and train student entrepreneurs. In addition to these business-related activities it runs school improvement events in an effort to put student opinions to use in university development. In addition to its weekly meetings, the group conducts a wide range of activities, such as this symposium, and collects student opinions via its website, "SMiSkun".
Reporter, Student Press Assistant (SPA): KOMORI Midori (APM2, Japan)