On Saturday, August 8, 2009, the APU event organisation "Beppu Music Fes Project" held their 2nd BEPPU MUSIC Fes vol.2"Rock'n Roll Pandemic" on the APU Main Ground and many people took the opportunity to enjoy the outdoor live concert.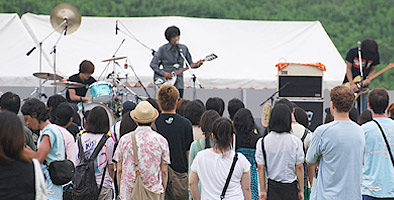 "BEPPU MUSIC Fes" was held for the first time last year in December at the APU Student Hall by 29 organisation members centering on FUKUI Shunta (APS3, Japan) who planned and managed the event. By holding youth oriented music events in Beppu, a city which plays host to so many artistic events, they aim to bring even more excitement to the town. This time, in order to get even more people along to the event, they gained the support of local industries to put on the outdoor event free of charge on the APU Main Ground.

On the day of the event, internationally flavored food and drink stalls run by APU students and locals were set up and over the course of the five hour event, six bands that endorsed the project such as indie bands active throughout the Japan, delivered a powerful performance. In addition to youth from Oita and neighboring prefectures, people of all ages came along to see the concert.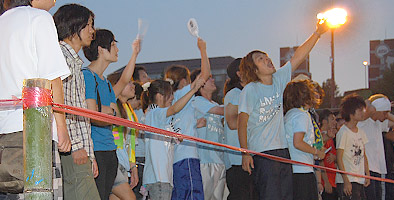 The crowd enjoyed the performance and participated in the "soumen nagashi" and shaved ice speed eating contests. The event proved to be a great success and rows of people could be seen forming in front of the popular food stalls.

Group representative FUKUI spoke of his happiness at the success of their first outdoor event and of his aspirations for the future, "It was really tough to put on an outdoor event of this scale without any name recognition or funds, added to which this was our first attempt. We started right from scratch bringing together supporting businesses and doing PR, but we were able to make a success of the event thanks to the cooperation of the artists who performed free of charge, our staff and many other people who offered their help. We were really pleased to hear that both the crowd and performing artists had a good time. In the future we hope to use Beppu as our base to expand our scope of activities throughout the entire Kyushu area."