On Tuesday, August 4 and Wednesday 5, 2009, President Monte CASSIM delivered four energetic lectures at a range of venues such as the Okinawa Association of Corporate Executives and Okinawa Shogaku Senior High School.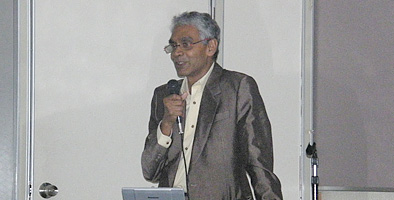 Delivering his lecture for teaching staff and parental guardians at Shogaku Senior High School, President CASSIM raised points about APU's unique educational content and service under the theme of "Human Resources sought by a Globalizing Society –from the course of APU, from the course of one's life". Furthermore, he spoke of the kind of human resources that will be sought in the Japanese society of the future, "Japan is becoming an ageing society and in the future it may move towards becoming a society with more immigration. In this respect, we can say that APU is a miniature of the future of Japan. The kind of human resources that will be sought after in a rapidly changing society will be those who can think beyond barriers, be considerate of others and change hesitation into hope".

Students who participated in the Saturday, August 1 –Monday, August 3 APU Summer Camp for high school students also came along to hear the lecture and posed some keen questions such as "Why was the university opened in Oita Prefecture?" and "What is the significance of enrolling into APU?". Parental guardians also expressed that they were left with a deep impression of the content of the lecture and of the APU philosophy.

At the conclusion of the speech, an exchange meeting was held with the President in which a number of parents of students currently studying at APU also attended and discussed APU and campus life. The exchange meeting proved to be a success and one could hear some great comments such as "our daughter lives in AP House and says that everyday she is having the time of her life".

The President's visit to Okinawa was for the key-note speech at the Cabinet Office's "Asia Youth House" program that got underway on August 5. In addition to the above, the President also delivered a speech at the Okinawa Association of Corporate Executives Human Development Committee/International Committee and presented a range of topics such as global leaders sought by society, environmental issues and the research he is currently involved in.