APU and Ritsumeikan University (RU) continue to encourage exchange activities between the two universities to promote mutual understanding and exchange. In August and September this year, many sports circles such as lacrosse and basketball, and many academic circles such as the APU broadcasting circle "APU STATION" and the Long Stay Beppu study group (LSB) have engaged in exchange activities.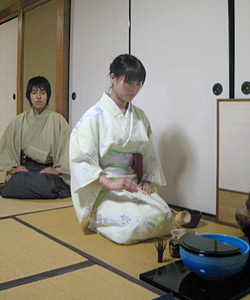 On Sunday, August 23, 2009, the APU Tea Ceremony Club and Ritsumeikan University Tea Ceremony study group, held their "Summer Tea Party in Hiroshima" at Angokuji Fudoin in Hiroshima City, Hiroshima Prefecture. This was their first joint tea party and the first off-campus tea party for the APU Tea Ceremony Club. 240 people came from Hiroshima and neighboring prefectures to enjoy a cup of tea prepared by the students.

This tea party aimed to pass on the message of "a peaceful heart" –the foundations of the international peace city, Hiroshima –and also "chado" –the Japanese art of tea ceremony etiquette. By using the equipment brought along by students from countries and regions such as Hawaii, Vietnam and Thailand, and infusing the culture of Japan with the cultures of the world, the party also aimed to let the participants enjoy the taste of international exchange. In March and June this year, both groups held exchange meetings in Kyoto and Oita ahead of this event to share their skills and deepen their friendships.

Looking back on the tea party, APU Tea Ceremony Club representative KATAYAMA Kana (APS4, Japan) spoke of her future ambitions, "This was the first large-scale tea party for the Tea Ceremony Club and we learnt a great deal of management know-how from the members of the Ritsumeikan University Tea Ceremony study group. I was impressed with their traditions and the strength of the bonds between their members. I felt once more that we should build up a similar tradition in our tea club. I hope to make use of this experience to hold tea parties in Oita and Beppu to let the people of the community experience our hospitality."

The APU Tea Ceremony Club was established in 2000 and currently has 34 domestic and 16 international student members from Thailand, Vietnam and Indonesia who engage in cross-cultural communication through the Japanese "chado" culture. They plan to hold a two-day tea party at this year's APU "Tenku" campus festival.

Furthermore, on Tuesday, September 22, the university and students are planning to work together to hold a "Student Exchange Meeting on International Education Cooperation" in which approximately 80 students from both universities plan to exchange opinions of international cooperation and educational support. Student leaders from both parties are getting involved in the planning, proposal and management stages of the program. We can look forward to a lively exchange of opinions on international cooperation from the student's viewpoint.