Thursday, October 1, 2009, saw the start of the "FIRST" guidance program. This program involves study and field trips to different areas of Japan and aims to raise international students' interest in studying Japanese and their understanding of Japanese culture.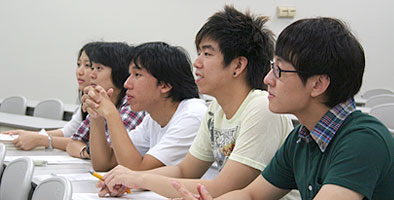 Held for first year international students, this guidance session for the upcoming FIRST program to be held in Kyushu, was attended by international students with an interest in Japanese, Japan and Kyushu culture.

APU believes "knowledge", "experience" and "exchange" to be the fundamental elements of learning and has been developing the "Active Learning Program" which places a strong emphasis on real-life study and experiences both in Japan and overseas. The FIRST (Freshman Intercultural Relations Study Trip) for domestic students has been held since 2007 and to date over 100 students have traveled to Korea and Taiwan in the spring and fall semesters to experience real-life learning.

Staring this semester, APU will hold similar programs for international students and work to raise international students' interest in Japanese language study and their understanding of Japanese culture. As part of this program, the students are preparing for Japanese study and research with the aid of Japanese Teaching Assistants (TA) as part of their preliminary training. This time they will venture out around Kyushu and engage in field research and orienteering following their research topics. At the conclusion of their research, the students will collate their findings and deliver a presentation as a follow-up session.

During the guidance session many international students were seen actively raising questions and one could see their high level of interest in the FIRST program.

In the room next door, a similar guidance session was also held for domestic students in which first year students with a keen interest in cross-cultural exchange, Korea and the Korean language were in attendance.

A FIRST guidance session is also planned for Monday, October 5. It is hoped that through the FIRST program, participants will increase their interest in cross-cultural exchange and be able to make the step up to even higher level study and field trips.