On October 24th and 25th (Saturday and Sunday), the annual student festival – Tenku Festival – was held on campus. The event organized by the APU Student Festival Committee "Base Event" attracted the total of over 26,000 visitors in the two days..



This year's Tenku Festival commemorated APU's 10th anniversary. With the theme of "Loving APU", the festival aimed to introduce the best of APU to students, alumni and the general public, create APU fans and build new relationships.

Approximately 60 shops were set up to serve ethnic food on the APU campus. A mini-Multicultural Week-style stage performance entitled "Feel the WORLD from APU" featured the Brass Band Club, Yossha Torai (Yosakoi Club), Shin-Myong (traditional Korean instrument club) and various other acts that showcased the world's cultures. This year's performance was new and improved to commemorate APU's 10th anniversary.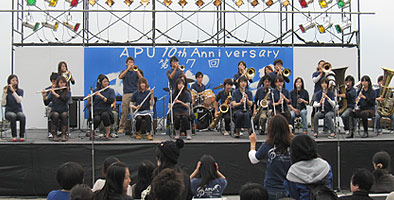 On Saturday 24th, President CASSIM Monte, First President SAKAMOTO Kazuichi, and representatives of the first and the second graduates chanted a phrase that had been succeeded over the decade since the opening of the APU – "We Can Do It!" – with audience and toasted to celebrate the University's 10th anniversary. Furthermore, An Open Campus was also conducted and Professor SANGA-NGOIE Kazadi gave a lecture entitled "What Can I Do for the World Right Now?" An AP House tour and admissions consultation sessions were also on tap.

Academic events abounded. APU volunteer clubs ran exhibits on their activities and gave research presentations while clubs from Ritsumeikan University held a science lab show and ran a planetarium. As a collaborative program, we also invited a popular TV talent, Yoon Sona, for her live talk show, for which many fans queued up long before it started.