On Saturday, October 10 and Sunday 11, 2009, the APU student event organisation "BEACH HOUSE PROJECT" held their "BEACH HOUSE PROJECT'09" at the Matogahama Spa Beach, Beppu City aiming to promote regional development and the creation of community connections and networks.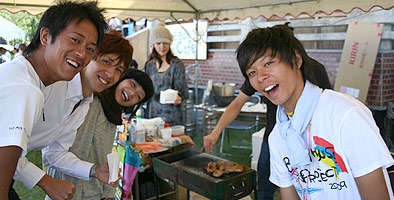 Starting in 2006, this event is now in its fourth year. Under the concept of "creating the spaces that link people", the project aims to get people involved together in sports and music activities, deepen friendships, promote regional development and the creation of connections and networks within Beppu City and the wider Oita Prefecture community. In addition to beach clean-up activities and events, last year Beach House Project also provided a place for donation appeals. The two day event proved a huge success with the Sports Day held on the 10th, and Music Day held on the 11th.

The 2009 Beach House Project kicked off with an array of different coloured plastic bottle rockets being shot up into the clear blue sky. On the 10th Sports Day (Sat) beach volleyball and basketball games were held at the specially prepared court which proved a big hit with the spectators as they watched the games develop, as did the Beach flag-grab contest which was open to spectators and in which many members of the general public took part. Beppu Town Hall staff member ABE Junko made an appearance as guest speaker and gave a talk-show on the past, present and future of Beppu.




On the following Music Day, APU student circle Wadaiko "Raku", Beppu locals "Hot Spring" and other professional groups were invited to play in the show, and NAO, a group signed to a label established by leading artists, got the crowd going as the finale group.

One of the Beach House Project members gave their comments, "We couldn't have done this by ourselves. It was made possible through the aid and support of Oita City, Beppu City, local businesses and the people of the community to whom we are eternally grateful. We hope to maintain the connections we have made. We also hope the spectators who came to the event appreciated the importance of these connections".
Reporter, Student Press Assistant (SPA): HOSAKA Ryosuke (APS2, Japan)