On Friday, October 16th 2009, a group of APU students carried out the 'STAND UP, TAKE ACTION' effort in APU. During the 15 minute interval between classes, the organizers gathered a large crowd in front of the fountain to take the official picture in the 'STAND UP, TAKE ACTION' pose. 372 students took part by "taking a stand" as part of the projects goal of raising peoples awareness, and the elimination of, global poverty.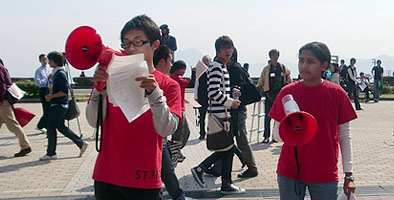 Coordinated by the UN Millennium Campaign and the "Global Call to Action against Poverty" (an international network working towards the eradication of poverty active on over 100 countries), STAND UP, TAKE ACTION is a global movement working towards the achievement of the United Nations Millennium Development Goal (MDG) to "Eradicate extreme poverty and hunger" by the year 2015. Stand Up, Take Action takes place around the world and over the past 4 years tens of millions have "stood up" in the hope that world leaders will play their role in the achievement of this goal. This year's global STAND UP, TAKE ACTION program took place around the world over three days from Friday, 16 until Sunday 18.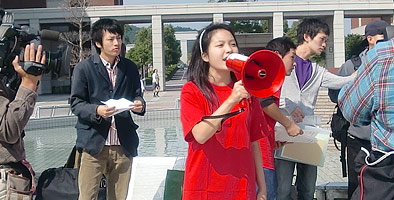 Organizer of the APU "STAND UP, TAKE ACTION" effort MAEHARA Hironobu (APS3, Japan), said, "It is because we are in APU, often referred to as 'a miniature of the world' with a student population representing 97 countries and regions around the world, that we understand the severity of global poverty and were able to take a stand in such numbers. With this movement as a stepping stone, I hope that more action will be taken to reduce global poverty."

Over the three days, more than 31,298 people at 521 different venues around Japan took part in this movement and the APU effort represented over a third of all participants in the Kyushu-Okinawa area. The grand total of participants around the world reached over 173 million across over 120 countries and regions.

In addition to working towards the eradication of extreme poverty, the movement is the current Guinness World Record holder for the largest mobilization of human beings in recorded history with a total of over 116 million people around the world taking part. The massive turnout this year not only smashed the previous record but also sent a strong message to world leaders.
Reporter, Student Press Assistant (SPA): NUGROHO Katarina Marsha Utama (APM3, Indonesia)