講演・シンポジウム|来学者
Nov 24, 2009
On Saturday, November 21, 2009, the APU 10th Anniversary and Confucius Institute 3rd Anniversary Commemorative Symposium "Perspectives on a New Era –Japan, America and China" was held at the APU Millennium Hall and welcomed Asahi Shimbun Editor-in-Chief and APU Visiting Professor, FUNABASHI Yoichi; Chairman and Chief Executive Officer of ORIX Corporation and APU Academic Advisory Committee Member, MIYAUCHI Yoshihiko; Former Ambassador Extraordinary and Plenipotentiary to China, ANAMI Koreshige and Dean of Keio University Faculty of Law, KOKUBUN Ryosei,Ph.D.



Following a few words by President Monte CASSIM, Former Prime Minister and Confucius Institute Advisor Mr. MURAYAMA Tomiichi began the Symposium with an opening address. The first section of the symposium saw APU Visiting Professor, FUNABASHI Yoichi deliver the key-note speech which gave an interesting insight into the characteristics of Japan, China and the United States through the scenario of mock state level talks between their nations' leaders. Visiting Professor FUNABASHI spoke of Japan's role in today's society, "The conclusion of the Second World War saw America emerge as the dominant global leader, however we are now seeing the growing strength of major Asian nations. Multifaceted cooperation is becoming more important in the make-up of the global order and I'm sure that we will see Japan playing a larger role."

The second half of the symposium took the shape of a panelist discussion at which APU Founding President SAKAMOTO Kazuichi emceed a discussion amongst the panel members, based on their experiences, of the remarkable Chinese economic growth and its relationship with Japan and the United States, US-Japan-China relations, and future issues for Japan.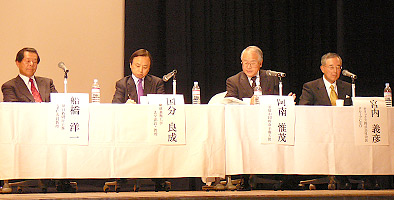 At the conclusion of the discussion the panelists drew questions from the audience such as the Yuan as a key currency, the recognition of history in Japan, and environmental initiatives of Japan, China and the United States to which each expert gave a detailed reply.

Many APU students and members of the general public came along to the Millennium Hall to hear the symposium which proved to be a wonderful opportunity to meet so many field leaders in one event. The symposium was also attended by Former Governor of Oita Prefecture, HIRAMATSU Morihiko whose presence added the finishing touch.

APU will mark its 10th anniversary in April, 2010 and has set aside the 12 month period from October, 2009 until September 2010 to celebrate this milestone through a range of events to express our gratitude for the last 10 years and look towards the next decade.