On Sunday, November 8, 2009, the "Project to line the Toyooka Coastline with Sakura" was held in which eighty four international students from twelve different countries and regions participated with members of the local community to plant one hundred Sakura saplings.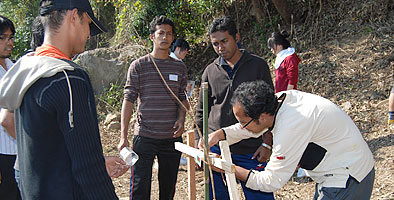 Held as part of events to celebrate the 150th anniversary of the opening of the Chidoukan School – a former clan-managed school and one of the remaining historical buildings in Hiji Town, the event was made possible through the donation of Sakura saplings by former school pupils. Determined to plant 100 Sakura trees along the coastline, the people of Toyooka District approached APU for assistance. Having worked with Toyooka District in the past, members of the Student Activity Station, Hiji Team provided their assistance with the management of the event and student recruitment. The Student Activity Station (SAS) is a student organisation that provides extracurricular activity support.

On the day, the participants used spades to dig holes along the coast walkway, planted the Sakura saplings and tied them up with supporting stakes. A name tag was then attached to each sapling with the planter's name and nationality written. The students were full of hope and expectations to see the Sakura trees come into bloom in the years to come.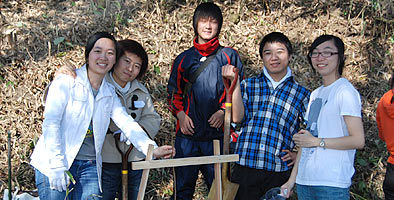 Looking back on the event, the SAS Hiji Team Leader and person in charge of student recruitment for this event, YOSHII Atsumi (APS3, Japan) spoke of her aspirations for the future, "We recruited students for this event in the hope of getting as many nationalities involved as possible. Eighty four students took part in the event and for me, born and raised in Hiji Town, being able to plan and manage an event of this kind where I can work together with the people of Hiji Town has been both a valuable experience and a lasting memory. I hope to plan more events in the future through which Hiji Town folk and APU students can interact with each other".

It will take between 6-7 years for the saplings to come into flower. The SAS Hiji Team will continue to cooperate with the people of Hiji to take care of and maintain the trees.

*The Student Activity Station (SAS)
The SAS was established in June, 2008 and through regional exchange activities, aims to strength the three vital student skills of Leadership (the ability to be proactive and show initiative), Management (working together for the group) and Communicative abilities (the ability to make links with local communities). Located in the Student Activities Office on the ground floor of Building A, they aim to provide student focused information and support for student extracurricular activities.