講演・シンポジウム|来学者
Dec 3, 2009
On Monday, December 1, 2009, the Ambassador Extraordinary and Plenipotentiary of Mongolia to Japan, H.E.Mr. Rentsendoo JIGJID visited APU and delivered a commemorative lecture to our students.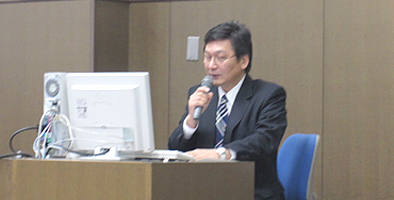 Before his lecture, Ambassador JIGJID enjoyed a discussion with President Monte CASSIM and Vice-President KORENAGA. During their discussion, Ambassador JIGJID spoke of Mongolia's foreign policy, "In diplomacy, balance is vital. We have high expectations of Japan especially in the Asia-Pacific Region. We hope to forge friendly political and civilian level relationships involving economic exchange with not only our neighboring countries, but also with nations across the seas."

Ambassador JIGJID then delivered his Commemorative Lecture to the student audience in fluent Japanese and introduced the goals and current state of economic activity in Mongolia such as mineral resources and agricultural self-sufficiency. He then went on to describe the history of Mongolian-Japanese relations, the state of Japanese technological and financial aid to Mongolia, and more.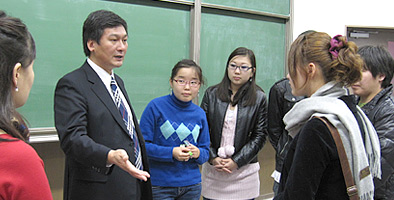 In response to questions posed by students such as, "what kind of country does Mongolia want to be?", and "what steps are being taken to combat desertification?", the Ambassador replied, "In the future, Mongolia hopes to promote trade with Japan and civilian economic interaction and exchange. We of course aim to strengthen mineral resource exports, but in addition to minerals, we aim to promote the manufacture of cashmere wool." He then went on to describe the Mongolian government's stance towards environmental issues, "Tree-planting initiatives to create a `green-belt' are currently underway, not only under the leadership of the government, but also with the cooperation of foreign NGOs. The extraction of minerals is important to the development of Mongolia, but if it leads to environmental destruction then it will be stopped."

At the conclusion of the lecture, Ambassador JIGJID then gave a few words of encouragement to the students, "Just as the phrase goes: `When in Rome, do as the Romans', we have a phrase in Mongolia which says, `If you drink the water, follow the custom'. You will spend part of your life in Japan so please respect its laws and culture. Please also learn the Japanese culture and spirit of challenge, kindness and perseverance –qualities build up through Japan's long history – and become a bridge between Mongolia and Japan.

There are currently 73 students from Mongolia studying at APU (as of November 1, 2009)