On November 21, 2009, the 7th "Global Stimulating Gaming (GSG)" program was held at Ritsumeikan University, BKC Campus under the coordination and supervision of RU Visiting Professor Kunihiko MIYAKE. The program was attended by 30 students from RU and 18 from APU. The APU participants are all involved with the International Strategic Studies (ISS) institute of the Crossover Advanced Program (CAP).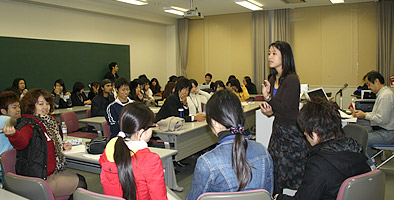 CAP is an advanced educational program which crosses over the academic spheres of the College of Asia Pacific Studies (APS) and the College of International Management (APM). ISS is one of the five institutes of the Crossover Advanced Program and aims to develop leaders that can accurately identify the core issues concerning ethnicity, religion, resources and energy and who can work on solving the tough diplomatic tasks and issues facing the Asia-Pacific Region.

The Global Stimulation Gaming Program required the participants to resolve a fictional international crisis involving a Japanese cargo ship the "Miyake-Maru" and its eleven Japanese crew members who had been attacked and held hostage by pirates in the Spratly Islands –a group of islands historically claimed by the Philippines, Malaysia, Brunei, Vietnam and China. Divided into ten teams representing seven different governments, the media, the pirates and the opposition party, the participants had use their diplomacy skills to successfully negotiate the situation to a safe conclusion.

Visiting Professor MIYAKE spoke of the aim of the program, "One of the main goals of this program is to let students think creatively and help stimulate their self- learning processes." Looking back on the event, AHMED Sajjad (APS4, Pakistan) gave his impressions, "The atmosphere was just like an international convention in Geneva; we were just like international leaders who had come to work together for a common goal while overcoming cultural boundaries".

The GSG is one of Ritsumeikan University's special programs and has been conducted annually since 2005. It is designed to assist students who desire to pursue a career in the field of international affairs. APU students have been involved in this program since 2007. By assigning students the role of national leaders, the program hopes to impart the practical knowledge to assist them in real-life diplomatic negotiations in the future careers.
Reporter, Student Press Assistant (SPA): Joshi Ratala Dinesh Prasad (APS3, Nepal)