講演・シンポジウム|来学者
Dec 9, 2009
On Wednesday December 2, 2009, Mr. Keiichi ONO, Director, First South East Asia Division, Ministry of Foreign Affairs of Japan delivered an RCAPS seminar entitled "A New Partnership between Japan and the Mekong region – Today and Tomorrow of the relations with Cambodia, Lao PDR, Myanmar, Thailand and Viet Nam".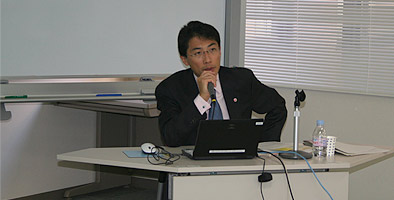 Mr. ONO first spoke about the 2009 Mekong – Japan Summit meeting and explained the initiatives to promote political, economic, cultural, tourism and youth exchanges with the Mekong region. He also mentioned how Japan aims to cooperate to narrow the gap of the development level between the Mekong region countries such asMyanmar, Cambodia, Laos and Vietnam and other industrialized Southeast Asian nations including Singapore and Malaysia..

Mr. ONO later spoke of environmental initiatives such the promotion of sustainable forest management and conservation along the Mekong River. Mr. ONO then spoke in details of the three pillars for future development and cooperation as outlined by the "Mekong-Japan Action Plan" such as the development of "economic corridors" –hard infrastructure such as roads, bridges and tunnels and soft infrastructure which both greatly improve the flow of material, human and information resources across the region.

During the Q&A session many students native to the Mekong region raised questions such as the reasons behind Japanese investment, Chinese influence in the Mekong region, political stability and environmental initiatives. Mr. ONO explained that Japanese cooperation and development assistance stems not from a desire to compete with China for influence in the region, but from very close trade relationships and exchanges between Japan and the region that date back centuries.

RCAPS was established in July 1996 with a mission to promote and foster research into the multifaceted developments and challenges that face the Asia Pacific region in the 21st Century. RCAPS seminars are held regularly at which lecturers from both on and off campus are invited to share research findings in the field of Asia Pacific Studies.


Reporter, Student Press Assistant (SPA): Dimithri Dveinda Jayagoda (GSAM 1, Sri Lanka)