On November 19, twenty-five professors from the National Development Planning Agency of Indonesia (BAPPENAS), University of Indonesia, and other Indonesian universities came to APU for training on public policymaking. This was the second time the training was held, in continuation from June this year.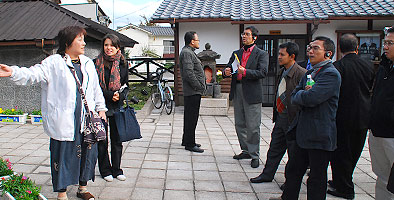 Based on Indonesia's 3rd Professional Human Resources Development Project (PHRDP III), BAPPENAS requested that Ritsumeikan Academy carry out this training as part of a short-term training program called "Public Policymaking Training." This program aims to train lecturers who conduct similar training for local public officers in Indonesia. It is supported by ODA funds.
The trainees were in Japan for two weeks, during which they attended lectures from Ritsumeikan University professors and lectures and specialists from other universities about Japan's administrative system, environmental evaluation, and disaster prevention. In addition, they visited central/local municipalities and specialized agencies.
The group of professors came to Beppu from Kitakyushu City on November 18, and had a get-together with APU's Indonesian students. The next day they participated in lectures given by APU Professor MIYOSHI Koichi titled "Policy and Administrative Evaluation: Japan's Evaluation System" and "Rural Development: Utilization of ONPAKU Approach." The lectures ended with lively question and answer sessions about the new approach to regional development using the ONPAKU model. In the afternoon the trainees were able to experience ONPAKU and regional development firsthand during a field trip around Beppu and Kannawa, where they walked around and ate food steamed by hot-springs.
In 2005 the Ritsumeikan Academy concluded the "Indonesia Linkage Program" agreement between BAPPENAS and Ministry of Finance (MOF). From 2007 Ritsumeikan University opened four graduate courses – with APU opening another two – to intake graduate students from the University of Indonesia, Gadjah Mada University, and Bandung Institute of Technology and Brawijaya University.
Please click
here
for an article on the Indonesia Public Policy Training Program:
*ONPAKU: Abbreviation of "Beppu Hatto Hot Spring Expo," an event where the regional charm of a locale and its people can be experienced. Has been held since 2001. The founders of the NPO Hatto Onpaku have spread their knowledge of Onpaku-style regional activation to other interested regions, and it has grown to become a model for development in ten locations around Japan, including areas without hot springs.