Starting on Thursday, November 26 2009, APU student volunteer circle "PRENGO" started a week long awareness campaign which ran until Friday, December 4, and under the theme of "No Segregation" organized a special event on the afternoon of Tuesday, December 1, to mark "World AIDS Day".



The World AIDS Day event highlighted some of the common held misunderstandings and misconceptions people have towards the disease and aimed to reduce the prejudice and discrimination that carriers of the disease encounter. Through the performances of student circles Wadaiko "Raku" and the gospel circle "Soul", the event attempted to spread the message that it is possible for AIDS carriers to live a respectful life in an enlightened society just as other people do.

The program described former NBL basketball player "Magic" Johnson and Zimbabwean soccer player, Ms. Pili Anafield as living examples of the HIV positive members of society who remain active in their respective professional fields. Pamphlets on AIDS prevention and free condoms were distributed.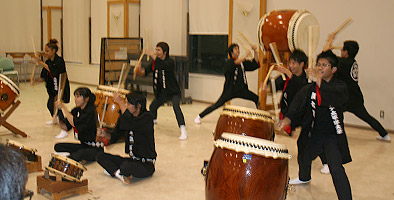 Program coordinator KOMINAMI Kaori (APS1, Japan) spoke of the campaign goals, "It is to improve peoples awareness of AIDS and spread the word that AIDS suffers are capable of leading a normal life".

PRENGO was established in 2000 and is an APU premier volunteer circle. Every year in February and September, they are involved in volunteer activities in Rayong Province, in the Kingdom of Thailand, and center their activities on the three areas of economic support, public health support, and educational support. They also hold photo exhibitions on and off campus to improve people's awareness. Every year, first year PRENGO members organize the AIDS day event to provide up-to-date information about AIDS and raise students' awareness of the issues.
Reporter, Student Press Assistant (SPA): Joshi Ratala Dinesh Prasad (APS3, Nepal)