From Monday, December 7 until Friday, December 13, 2009, APU welcomed employees of ROHM Co., Ltd. onto a short-term training program. Through meeting with students and faculty members, observations of lectures, and meetings, the trainees experienced first-hand the APU multi-lingual and multi-cultural environment. ROHM Co., Ltd is currently in the process of internationalizing its business.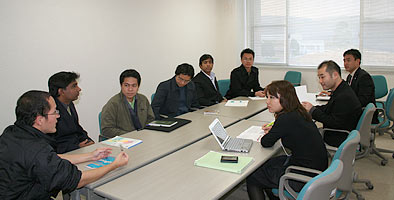 On Tuesday, December 8, the trainees talked and exchanged opinions with international students studying at the APU Graduate School about the plans and prospects for the internationalisation of ROHM Co., Ltd. The discussion proved to be a great opportunity for the trainees to hear an opinion on global business from the point of view of a graduate school student.

During the discussion, one of the trainees commented that internationalisation is important for the future business development of ROHM Co., Ltd – which until now had been a Japanese-style business – and that they are considering moving into the Asian market starting with China. On the other hand, the graduate student spoke of the risk of loosing existing clients during the internationalisation process, and of the possibilities for new business development.

One of the trainees who took part in this program, Ms. NAKATA Yuka commented on her impressions of the discussion, "Through this exchange of opinions, I have been able to hear ideas from an international perspective which I normally would not experience back at the office. I will refer back to the very informed opinions and ideas of the graduate students and make use of this experience in my future business".

For both the trainees and graduate students, the discussion proved to be a great opportunity to exchange opinions. APU will continue to support the further internationalisation of the business sector through training programs and exchange.
Reporter, Student Press Assistant (SPA): NAGANO Yuta(APS1,Japan)