講演・シンポジウム|来学者
Dec 17, 2009
On Wednesday, December 9, 2009, President of Maruzen Co, Ltd., and member of the APU Advisory Committee, Mr. OGI Takehiko visited APU and enjoyed a discussion with President Monte CASSIM. Mr. OGI Takehiko who joined the Advisory Committee in May, 2007, also observed lectures, inspected the campus and delivered a lecture to international students studying at the APU Graduate School. Established in 1869, Maruzen Company, Limited has been in business for 140 years and is a major player in the book retailing and publishing world.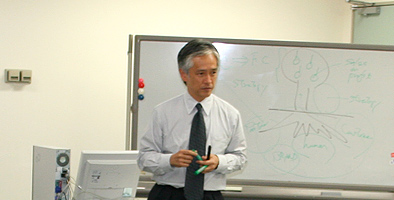 During his discussion with President OGI, President CASSIM spoke of the future of the library, "In the days of Socrates and Plato, new ideas came about through the exchange of arguments and debate. I hope that the APU Library – with all the features of a modern library – becomes a lively place for discovery and new ideas". In response, President OGI replied, "The libraries of the future need to consider how they display their book collection and I am sure that students are keen to know what kind of books the President reads. One way to accommodate such student interest is to recreate the bookshelves of faculty members in the library".

During his lecture to graduate school students, President OGI spoke of the differences in management styles of Japanese and western businesses. President OGI based his lecture on his experiences of business re-structuring at the Industrial Revitalization Corporation of Japan – established as part of the Japanese government's financial revitalization program.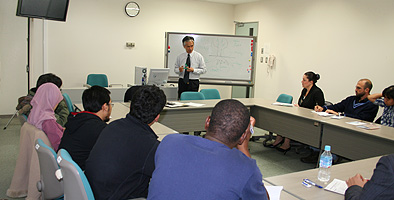 President OGI spoke of the differing Japanese and western corporate cultures, "Japanese businesses have a `belong-to' style and employees refer to the company as `our company'. Employees are secure with life-long employment and feel a great sense of attachment to the company. As a result, workers will not hesitate to work over time without pay and think of their company with a long term perspective. Western businesses, on the other hand, tend to be `participatory-type' organisations – when required, human resources are brought together to work on a specific project or task. As a result, although the skills and abilities of the individual are high, their loyalty to the company is poor and tend to think of the organisation only in the short term". He then commented, "For the revitalization of Japanese businesses, we need not turn our back entirely on the Japanese business style, rather it is important that we keep the good aspects and introduce a balance of ideas from the western business model."

In response to a point raised by a student during the Q&A session regarding the influence that gender and ethnicity have on the workplace, President OGI gave a few words of encouragement, "changing old habits is a challenge, but it is also my job. When I first joined the company as president, I was an outsider. However, over time the staff and I became friends. Learning about your company's corporate culture, and making the people around you aware that you are keen to learn is a fast-track to becoming friends."