On Friday, December 22nd, 2009, the APU student event organization Toshi Osame Team held a toshi osame (year-end fair) in the APU cafeteria where students mingled with local citizens.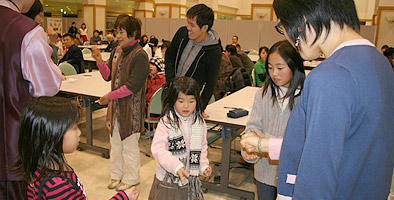 The year-end fair is a student event held to express appreciation to the local citizens who support students in their various extracurricular activities. At the event, there was a bingo game, a video showcasing student events held in 2009, and many interesting student performances. Students also offered visitors the chance to experience various countries' foods and cultures. Visitors delighted in sampling Japanese chirashi sushi, Vietnamese spring rolls and Taiwanese rice noodles to name a few.

Students performed a wide variety of acts: Indonesian and Vietnamese students performed traditional dances, Bangladeshi students sang folks songs, Wadaiko RAKU played the taiko drums and MUSY TONE gave a choral performance. Visitors gave a resounding round of applause when the APU-esque multicultural performances concluded.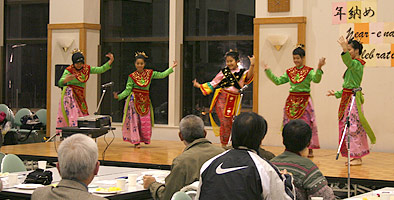 Visitors commented, "My family had a wonderful time seeing all of these various performances in one venue" and "I was surprised by the international students' Japanese fluency."

The head of the Toshi Osame Team, NGUYEN Thi Thanh Tuyen (APM3, Vietnam), discussed the event and aspirations for the future, "This event was planned and orchestrated by 5 team members, but many students cooperated by performing or helping run the event. We also had many visitors from the local community. We will make some adjustments so that in the future we can bring students and local residents even closer together."

One of APU's important missions is to internationalize and revitalize the local community, and every year over 1000 students contribute to the region by participating in various exchange events in Oita Prefecture and throughout Japan.