From Thursday, December 17th thorough Saturday, December 19th, the student event organization DAYS JAPAN Press Photo Exhibit Planning Committee held the "World x Action: DAYS JAPAN Press Photo Exhibit x APU Student Photo Exhibit" in the APU Convention Hall.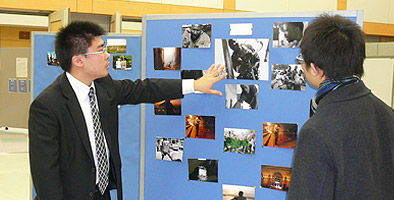 Now in its second year, this exhibit showcases photos from leading photojournalists who have received the DAYS International Photojournalism Prize, an award presented annually by the monthly magazine DAYS JAPAN. In addition to the exhibit's 20 stirring photos, photos of the on-site activities of APU volunteer clubs such as PRENGO, Xiao, and Habitat APU were also on display in line with the theme of international cooperation. About 100 photos of students' activities and overseas travel were on display.

Many students, faculty, staff and local citizens came to see the exhibit. With photos from world-renowned photojournalists who risk their lives to present a message to the global community together with photos that reveal the student's-eye view of global issues, visitors to the venue gazed intently at the exhibited works.

DAYS JAPAN Committee President ONIZUKA Ryosuke (APS2, Japan) reflected on the event, "I think it is both important and necessary for students to learn as much as possible from these photos. Since we don't have many opportunities to see exhibits at APU, I am very pleased that we were able to organize the DAYS JAPAN Press Photo Exhibit together with the APU Student Photo Exhibit, which was a first for us. As much as possible, we would like to organize more events like this in the future."